Five New Businesses Added to SteemEconomy.com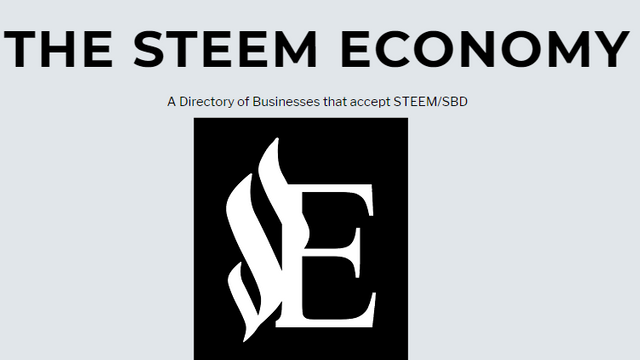 SteemEconomy.com is a directory of businesses that accept STEEM/SBD as a form of payment. It was launched back on August 2, 2017, and has since grown to over sixty businesses!
Today I added five new businesses to the site:
Homesteaders Co-op
An International Marketplace for Sustainable, Handmade Goods – Mom & Pop vendors accepting USD, STEEM & SBD for their handmade, sustainable, homegrown and ethically sourced products.
https://steemeconomy.com/homesteaders-co-op/
David Far (Musician)
David Far is a music producer/vocalist who is selling his music products/Collaborations through Steem payment methods.
https://steemeconomy.com/david-far-musician/
Winning Solutions (Web Development)
A web design and web development company located in Germany.
https://steemeconomy.com/winning-solutions-web-development/
PPM Silver Cosmetics, LLC
PPM Silver Cosmetics manufactures and sells top quality, all natural, high silver concentration products.
https://steemeconomy.com/ppm-silver-cosmetics-llc/
247 Bits, Inc.
247 Bits sells Cold Storage Cards, Anonymous Cold Storage Cards, Cold Storage Gift Cards, Deposit Cards.
https://steemeconomy.com/247-bits-inc/
Drug Wars - Bonus 6th :)
Drug Wars is a resource management game. There are three main resources in the game (drugs, alcohol, and weapons). By producing more of them – you move up in the game. You can also try to steal resources from other players in the game, and you have to protect your own resources from getting stolen.
You can even earn STEEM from playing! The better you do in the game, the more STEEM you can potentially earn.
https://steemeconomy.com/drug-wars-game/
---
New Businesses?
If you are a business that accepts STEEM/SBD and you haven't registered yet, be sure to submit your business information via the website's contact form. If you are not yet accepting STEEM/SBD, there are instructions on the website on how to start.
SteemEconomy.com
Be sure to check out all of the businesses that are accepting STEEM/SBD as a form of payment by visiting SteemEconomy.com!