STEEM EASY CONTEST, choose your option and win SBD [W6]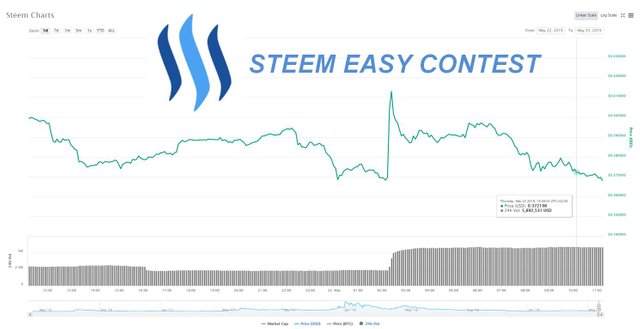 Not a bad week for STEEM, as you can see, STEEM today (10:10 [UTC+2] time) worth more than exactly one week before, in particular, STEEM price according to COINMARKETCAP is 0.372198 USD, + 4.4% more than 7 days before... let's see if it can keep rising.
Congratulations to the winners who bet for this option this week :
@maxer27
@imealien
@nenad-ristic
@olivia08
@javirid
@chrisparis
@green77
@the-real-betman
@mrhill
@casperbgd
50% of the SBD obtained by this post have been divided and sent to each one of you.

Thanks to
@amico
@beiker
@bluemoon
@casperbgd
@chrisparis
@deantonio
@green77
@gungho
@hadzijaz
@imealien
@javirid
@lighteye
@maxer27
@mrhill
@nenad-ristic
@olivia08
@otom
@the-real-betman
who participated and resteemed the post as required in the rules.
---
Let's start a new week...
Are you a master in trading predictions?
Do you think you can forecast the short term price of STEEM with certain accuracy ?
If so, this is your contest:
according to the Coinmarketcap at 11:50 Hours [UTC+02], STEEM price is 0.367910 USD .
What will be the price of STEEM exactly at exactly 7 days from now?
Don't worry, I am not going to ask you for an accurate value to the 5th tenth, instead I am going to ask you if the prices of STEEM will be BELOW or ABOVE the current price.
THESE ARE THE RULES:
In order to participate in the contest you have to upvote the post and upvote just one of the following two comments:
"STEEM will have a price ABOVE the current price in 7 days time" or
"STEEM will have a price BELOW the current price in 7 days time"
So, please do the following because they are mandatory for the contestants:
Upvote the post.
Choose just one of the two comments written by me below and upvote it.
Resteem this post, it will help in order to increase the "rewarding pool"
---
---
CONTEST REWARDS: The 50% of the SBD earned in this post will be distributed equally between the winners after 7 days of its publication.
VERY IMPORTANT: The contest will close in 24h from the publication of the post. Contestants participating later on will not be rewarded.
Enjoy!