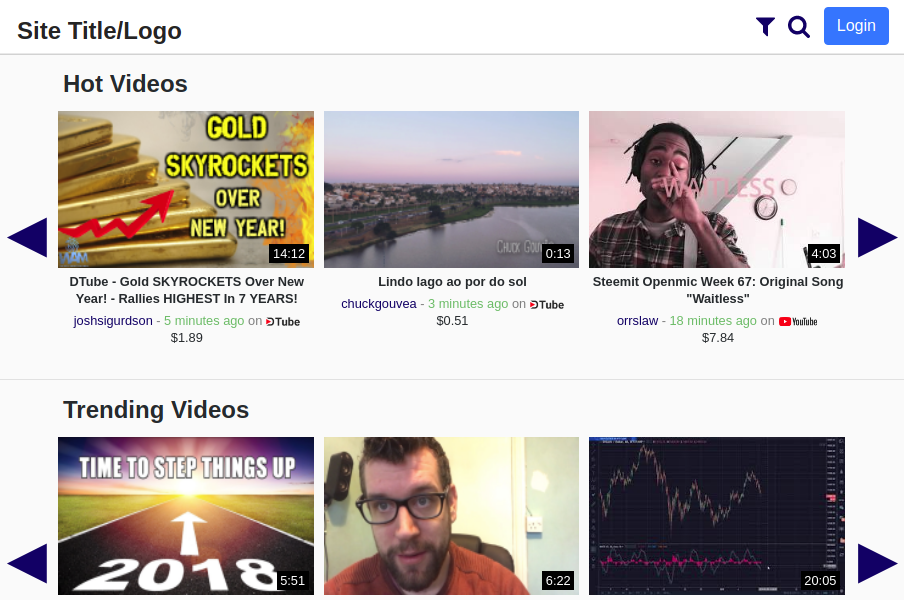 http://www.steemreports.com:81/
Over the last few weeks I've been working to develop a new video site along the lines of YouTube and DTube, but without the actual video hosting. This more simply indexes videos from various sources in the same interface.
It does not directly compete with DTube or interfere with the commission they get when people upload using their service, and I fully support their much more impressive and ambitious project. This just attempts to create a unified interface to the video content of Steem because DTube/DLive do not yet cover all use cases.
In future versions you'll be able to sign-in using Steemconnect to comment and vote, and I have some interesting features in mind, but this is just a skeleton site at the moment, with minimal functionality and only includes the last 24 hours of video content.
Anyway, I thought I'd present the first pre-alpha version to gather any feedback and suggestions. I'll probably do this every week whilst I develop it, but perhaps from a new account instead of @steemreports soon.
---
Notes
The login and filter functions don't currently work, though the search basically does.
The trending/hot formula is not yet correct and will be improved.
For YouTube videos, it checks the YouTube account to see how old the video is, and this is indicated by the colour of the age text beneath the videos. Green shows videos uploaded in the last 24 hours, grey is for videos in the last week, and red for videos older than that. All DTube videos were uploaded when the post was made of course, and so are shown in green.