It's been a while between updates, but I'm happy to bring you a significant update introducing voting power for your steem engine tokens.
I've included nine popular tokens (CCC, LEO, NEOXAG, PAL, PHOTO, PORN, SCT, SPT, STEM), but I'm happy to include more on request. Simply click on the settings cog, and select the tokens you want included in your extension display.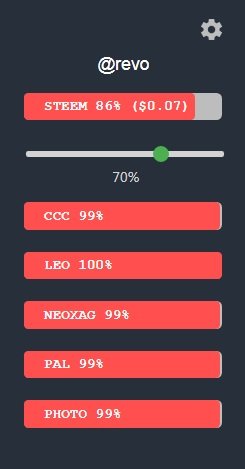 I clearly need to do some more curating with my scot tokens. Note, the vote percentage slider only applies to the STEEM token.
Note, since the last hardfork, the curve used to determine steem vote value has changed and by my understanding your vote value depends on both your SP and the existing votes (if any) on a post you are voting on. Because of this, the vote value shown in the extension (see above) is the maximum your vote could possibly be. For nerds, this is if your vote falls in the approximately linear range of the reward curve.
Any feedback or suggestions are welcome. I hope you get some value from this extension.
Pick it up at the Chrome extension store