I vote for the proposal of @jga [Proposal] Improvents to the proposal system
[Proposal] Improvents to the proposal system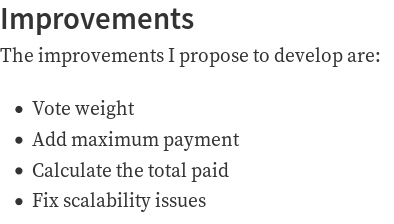 image screenshot
---
I vote for the proposal of @jga [Proposal] Improvents to the proposal system
My reasons are several, but I also have the great honor of meeting him, he also belongs to the family of @steemfamilyhi I create a help tool for the community of #steemfamilyhi that even I use it constantly Check-Votes created for use by the dynamics of #toptres
What my good friend @jga poses are very well explained and related to the improvement of the Steem Proposal System code, which was implemented to contribute to the Steem ecosystem. Suggest the need for improvements in SPS. (Steem Proposal System).
One of the specific improvements that he proposes are: That the "voting weight", "establish maximum payments", "calculate total payments" and "solve scalability problems" be included.
In particular, the "set the maximum payment" part of the proposal was considered a realistic alternative to avoid excessive spending on the proposal.
The enhanced code will be sent to the Steam Code repository as an extraction request (PR). (Reflected in the mainnet source)
I invite you to visit its publication so you can know much more about it, LINK [Proposal] Improvents to the proposal system
How to vote for the proposal of @jga
To vote, follow this link it's a direct connection by steemconnect.
You can also do it through your wallet: https://steemitwallet.com/proposals
There will be a list with several proposals, you just have to locate the one of @jga and you choose to vote, I know that you are already very familiar as voting

imagen captura de pantalla de la lista de votación
another option:
https://steemproposals.com/proposals
To consult this proposal:
https://joticajulian.github.io/steemexplorer/#/proposals/23
https://steemproposals.com/proposals/jga
https://steempeak.com/proposals
---
My friend @jga
Works as the main developer of blockchain in a pilot project carried out by the European Commission and hopes to continue participating in Steem Blockchain improvement work based on his experience with Steam Blockchain Mainnet.
---

I can suggest that you consider voting for @thecryptodrive, as a Witness and Ambassador with this voting link: testigo @thecryptodrive
Or you can use the quick link ofSteemConnect: testigo @thecryptodrive SteemConnect

| Visit our website for more! | Subsribe to our YouTube Channel |
| --- | --- |
| | |
Set it up today and contribute to building a better tomorrow!


( Want an easier way? Use our SteemConnect proxy link! )
Get support and connect with us and other BuildTeam fans!



---
¿Looking for mobile experience?
Check eSteem Mobile for iOS and Android with automatic notifications, bookmarks and other convenient features synchronized with the desktop version.
-|-
| iOS | Android |
| --- | --- |
| | |

[email protected]
eSteem.app | 👨‍💻GitHub | 📺YouTube
✍🏻 Telegram | 💬Discord | Patreon


---
---
Partners supporting my work:
---
Thanks for visiting, I appreciate your opinion.

"In your constant evolution".