Games in the snow
Snow is an exceptionally flexible material - it's easy to shape and great for many fun and fun game ideas. Snowy parks, gardens and meadows offer plenty of creativity and games.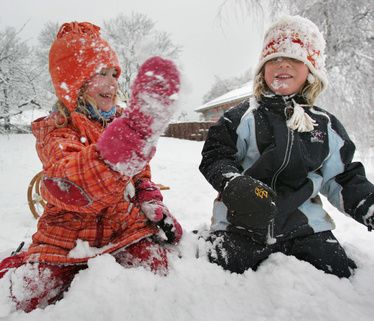 © Fotolia.com
The wealth of ideas here are virtually unlimited. The possibilities include exuberant movement games such as sledging or snowball fights; Small and large artists can make very beautiful figures out of snow and ice. However, it is always important that our children are dressed sufficiently warm. The less cracks in the clothing, the less snow comes to the child.
Tobogganing is fun - even more if an unusual sled is used: Discarded paddling pool or old truck tires are ideal for wild departures. It should be noted that these slides are not easy to steer. So the train has to be free. For toddlers this fun is not suitable yet.
If fresh powder snow is delivered, a carousel ride ensures a good mood. This puts dad in the middle and has a child on each hand. He slowly turns around his own axis, the "passengers" run in a circle. Circling faster, until the contact with the hand tears off and all land in the snow. Subsequently, the resulting snowprints can be evaluated.
In addition to the movement games, there are endless possibilities to build something out of snow. Cozy igloos, imaginative snow forms, marble rides and other sculptures are built quickly and hold until they turn the thaw into water.


thx to @poeticsnake for this amazing footer