Steem Crypto Challenge Month #2 : Diving into DeFi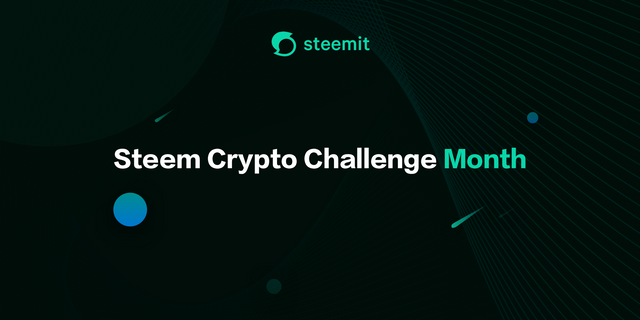 Challenge #1 of the Steem Crypto Challenge Month has now finished.
Now we move on to the second Challenge all about DeFi.
DeFi (Decentralized Finance) is one of the hottest topics in the crypto world at present attracting huge interest and huge investment.
This refers to financial services using smart contracts, which are automated enforceable agreements that don't need intermediaries like a bank or lawyer and use online blockchain technology instead.
Many great projects are already appearing based on DeFi, but this is just the beginning.
This week we would like to hear your thoughts, ideas and impressions as we dive into the world of DeFi.
---
---
Challenge #2 : Diving into DeFi


This week we want you to explore the new world of Decentralized Finance.
Tell us what you know, and if you don't know already this is a great opportunity to research and learn more.
Some of the topics you might want to cover in your challenge posts include...
What's DeFi in your mind and have you ever bought any DeFi tokens?

What makes you excited about DeFi?

Which project do you think is the best DeFi application?Why?

What's the mechanism of DeFi or any DeFi project?

Are you feeling positive or negative about the future of DeFi?
---
The Rules


Posts should be a minimum of 400 words, and can be in any language.
Challenge entries should include the tag #steemcryptochallenge and a tag for your country like #india or #italy in the first five tags.
All posts must be your own original work. Any evidence of plagiarism will result in a banning from the Challenges.
Any images used should either be your own or from a stated copyright free source.
---
The Prizes


There will be three winning posts selected every day.
The top post will receive a 50% upvote from @steemcurator01 (10M SP) and a 50% upvote from @steemcurator02 (4M SP).
The second post will receive a 50% upvote from @steemcurator01.
The third post will receive a 50% upvote from @steemcurator02.
---
The prize votes will be increased to 60% for any winning posts set to Power Up 100% (assuming the account is not powering down at the same time).
---
We reserve the right not to award all three prizes, or vary the prize vote mix, on any given day if there are not enough posts of sufficient quality.
---
Twitter Sharing


We will also be giving upvotes for sharing your Challenge posts on Twitter - make sure you include the hashtags #steem and #steemcryptochallenge.
Put a screenshot AND the direct link to the Tweet in a comment on your post to be in with a chance of winning an extra upvote.
---
Challenge #1 Winners


Congratulations to @abduhawab, @alokkumar121, @anroja, @ayijufridar, @charjaim, @fucho80, @josevas217, @lavanyalakshman, @mikitaly, @neerajkr03, @randulakoralage, @sahilgupta, @sapwood, @shortsegments, @stream4u, @surpassinggoogle, @techyworld and @wilmer1988 for their winning posts in the first week's challenge.
---
We hope you are enjoying this Steem Crypto Challenge Month.
There will be almost $10,000 worth of upvotes being given out in prizes by the end of the five challenges.
We really want to tell the crypto world about this. So please do tell your friends and share it on your social media.
Get writing, have fun and enjoy the prizes.
Thank you,
The Steemit Team
---
---
PLEASE DO NOT PUT ANY DIARY GAME LINKS IN THE COMMENTS ON THIS POST. COMMENTS THAT ARE NOT RELATED TO THIS POST MAY BE DOWNVOTED TO MOVE THEM BELOW MORE RELEVANT COMMENTS.


THANK YOU