Steem Crypto Challenge Month #3
The Best Exchange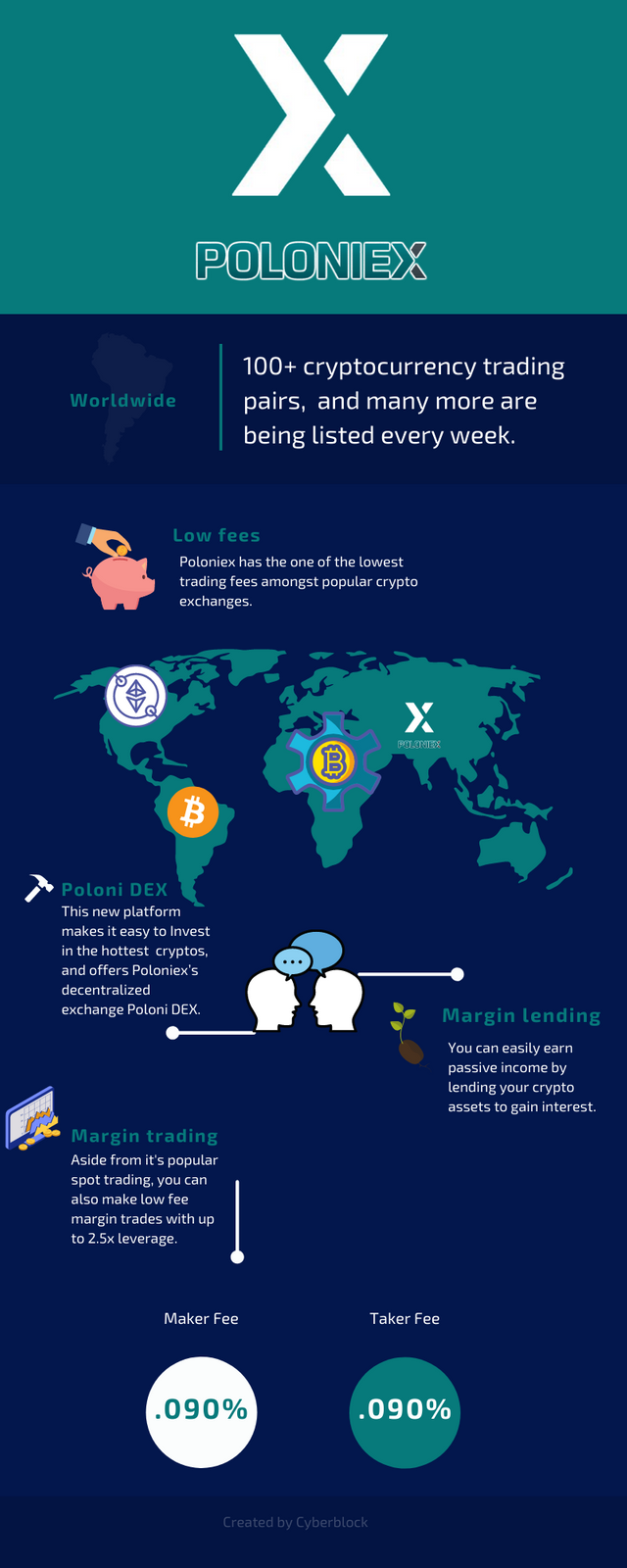 Which is the best exchange in your view and why?


Poloniex is still and always has been my favorite crypto exchange. It might not be as popular as it was back in 2016, but it still offers quality service and great features for trading bitcoin and altcoins. It was the my very first exchange and the doorway in to the crypto universe for me back in in 2015. It had the first and very best Trollbox where I eventaully made my first friendships in the crypto space. We would play with our fav mod (Hightower) who would at times go crazy with his BANHAMMER and his favorite line was "This is a trollbox, if you can't handle CAPS, you can't handle the internet." lmao. And it is partly because of this that polo will alaways stay in my heart for exchanges.


What are the best features of this exchange?
It offers a wide range of features that set it apart from most exchanges .
It offers a whopping 100+ cryptocurrency trading pairs, and many more are being listed every week.
Low fees. Poloniex has the one of the lowest trading fees amongst popular crypto exchanges.
Margin trading. Aside from it's popular spot trading, you can also make low fee margin trades with up to 2.5x leverage.
Poloniex margin lending. You can easily earn passive income by lending your crypto assets to gain interest.
Poloni DEX and IEO launchpad. This new platform makes it easy to Invest in the hottest cryptos, and offers Poloniex's decentralized exchange Poloni DEX.
Are there any features you think that the exchange needs to improve or add?
I would like to see Dark Energy Crystals listed on the exchange as it's my fav game.
How often do you use the exchange and what sorts of transactions do you do on it?
I use this exchange almost every day, sometimes for buying the latest defi coins and sometimes to buy and sell steem.
Has the exchange run any promotions or contests that you have taken part in?

I did participate in the xfutures contest and a few other contests before that, it's alaways fun to compete against people you know in the crypto space :)

Would you invite your friends to join the exchange? Why?

Ive invited a few friends and even family members, It's one of the only exchanges i trust enough to recommend. Polos gained my trust after years of service and no major problems, there's no need to go any where else.
If you didn't use this exchange what would be your next choice?
I would use Binance, just because of the amount of coins listed and because it has gained a great reputation for security.
Conclution

The Poloniex platform has been through a turbulent few years (as has the entire crypto space), but it seems now that the exchange is beggining to stabilize and grow back its user base.
Polo offers some of the lowest crypto trading fees in the market, margin trading, borrowing/lending, DEX exchange, and the IEO launchpad. Its customer service is fairly responsive, and I love that you can trade without KYC.

For the most part, Poloniex remains unregulated (which is super important to me). It's simple clear interface makes it a great starting point for beginners, as well as more experienced traders. It only takes a few minutes to sign up and start trading, so take advantage and jump in!
Cyberblock


---