Introducing SteemConnect by Busy : Identity, authentication, authorization for Steem blockchain's apps
Your main way to enter the Steem World ?
SteemConnect by @busy.org is a simple identity layer built on top of the Steem blockchain, that allows you to connect to authorized apps is a secure and convenient way.
Why SteemConnect ?
It has been more than 6 months that Steem and Steemit have been launched and already a whole ecosystem of applications is being built around the Steem blockchain. Nevertheless this profusion of new projects that demonstrate the enthusiasm and dynamism of Steemians leads to the issue of Security for both users and developers of our ecosystem.
Security is key for thriving ecosystem like Steem
The Busy team seriously works on identifying the key challenges and core issues that need to be solved to make Steem successful. One of the first identified issues after Steemit.com was announced Open Source and our SteemJS release by @fabien (CTO & co-founder of Busy) few month ago, was Security for users and how to find solutions that would allow new projects to flourish.
For users: How to ensure the security of your private keys when you connect to the Steem blockchain through other apps and websites than Steemit? How can you possibly trust these domains with your credentials and putting your reputation and eventually money at risk ?
For developers: How to facilitate your workflow by helping you to focus on your applications development without having to manage the user authentication? How to solve user trust issue with a transparent, convenient solution ensuring complete safety for everyone ?
SteemConnect, a universal login interface for the Steem Apps Ecosystem
Our solution ? Build an open-source, collaborative, transparent, identity & login base layer for any Steem Apps who want to benefit from a convenient and secure solution. That's what Busy brings with SteemConnect.
This simple identity layer built on top of the Steem blockchain allows every Steem users to connect to authorized apps is a secure and convenient way.
It's an opensource project that can only be improved through a concentrated effort involving all important members/developers from the Steem community to make a trusted tool that everyone can use, encrypting with complete safety your keys & data..
Not only it will allow users to use several apps without fear but some Module/Widget like the Disqus comment built on Steem would definitely bring new users and allow tons of possibilities, 2017 will be crazy :)
said @ekitcho (CEO and co-founder of Busy)
SteemConnect can provides security, simplicity and trust for both users and developers
For developers, it allows you to develop applications based on the Steem protocol, without having to handle the authentication system. SteemConnect frees you from the burden of managing users private keys and encryption.
Indeed, by using SteemConnect, you won't have to open-source your project to gain the trust of your users. The service is open-source and very simple to learn and integrate. We will provide few tutorials to help.
For Steem users, it allows you to connect in a convenient and secure way to other apps and websites built on Steem using the same account credentials you use for Steemit! Neither SteemConnect or the authorized apps store your key. Your posting key is encrypted on your cookie. (Check the Release note for more technical information)
You can login on many authorized Steem apps in complete safety.
SteemConnect can also be your "Steem App Store"
Imagine an App Store dedicated to all authorized Steem apps you can use... Well that's what we are offering with SteemConnect!
Select among various websites and apps using SteemConnect where you can easily log in with confidence using your Steem account credentials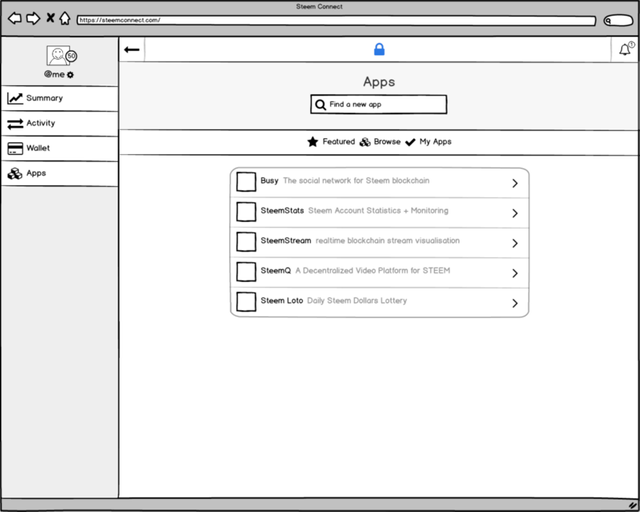 Early wireframe demo of SteemConnect
Light Wallet, Activity & Profile Manager
In addition to being completely open-source, this service will allow you to access and edit securely your personal information: edit your global Public Profile, manage your credentials, make a steem payment, review your activity, stats and browse and select among authorized websites and apps that use Steem Connect.
---
Last but not least, in addition to the API, we plan to build a desktop and mobile app!
You will also have access to many tutorials by the Busy Team written by our developers.
We are now in Beta with SteemConnect, all developers are welcome to join ! Check our Release note for more information.
---
How to support Busy & SteemConnect
We're hiring Experienced and talented Designer (Branding), UI/UX Designers, Marketers, Writers, as well as new businesses or apps that want to integrate the Busy Platform or use SteemConnect as a base layer for their project. Feel free to contact us.
Additionnal Links
---
All rewards from the @busy.org account will be used to fund our projects
---