Blessed (Part 1)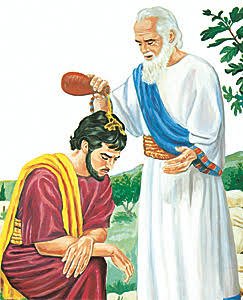 Source
Text:Ephesians 1:3
"…Who hath blessed us with all spiritual blessings…in Christ"
First notice how Paul addresses these precious saints in Ephesus; verse 1 "to the faithful in Christ Jesus". A living person being called a saint; for some is unthinkable; in addition, Paul addresses them as faithful; reliable and trustworthy. Say it out loud "I am a saint, I am trustworthy and reliable".
That is how God sees you. See yourself the way God sees you and you will become…2Corinthians 3:18.
Our focus is verse 3 "blessed with all spiritual blessings" the Greek word used here for "blessed" is "eulogeo" meaning to speak well of, to invoke a benediction upon and to praise.
Blessings are invoked by words, curses are invoked by words. So Paul says:
God has spoken well of us; Just like David said in the Psalms "glorious things are spoken of you oh city of God" Psalms 87:3

God has invoked a benediction upon us – meaning God has approved you. Please stop working so hard to gain man's approval.

God has declared words of praise concerning us; God is proud of you. Because you are His masterpiece, His chef-d'oeuvre.
WHY IS THIS IMPORTANT?
The blessing, decree or declaration of God is superior to all other declarations. Even if you were cursed before, if God invokes a benediction upon you, it nullifies the curse.

If the blessing is upon your life, no curse can alight upon your head.
God is not going to bless you; HE HAS BLESSED YOU WITH ALL SPIRITUAL BLESSINGS; all the good things in the heavenly realms have been invoked upon your life. You lack nothing.
ACTION ON THE WORD
Have you been seeking the approval of men? You don't have to anymore. You already have the approval you need; God's. Therefore all other approval you need will come.
Say out loud as you step out today: "I am blessed with all spiritual blessings".