A PRELIMINARY PROPOSAL PROJECT BY STEEMCHURCH GHANA- SOCIAL DEVELOPMENT(EDUCATION): STEEMCHURCH EDUCATION SUPPORT PROJECT(SESP)
Hello Ladies and Gentlemen peace be with you all.
We welcome you to SteemChurch Ghana Blog, @sc-g.
"I appeal to you, brothers and sisters, in the name of our Lord Jesus Christ, that all of you agree with one another in what you say and that there be no divisions among you, but that you be perfectly united in mind and thought."(1 Corinthians 1:10)
Blessed are people who stay in unity and with common vision. As a Church, we must always pursue unity in order for what we have envisioned to be realised, since "a broom when you remove one it is easily to break than when they have been put together." Our unity will help all the projects we would want to embark on both become successful and achievable.
Due to this every projects that our Mother Church - SteemChurch International Ministry seeks to embark on we have to support it and promote the Church growth as Jesus Christ encouraged us to do.


About two weeks ago, Our Leader and Mother SteemChurch International declared the direction or route the Church should in respect projects and development that we want to embark on. Since all the Parishes and Parishioners work around the Mother Church, our vision and focus should be in the direction, so that the Mother Church can recognise and monitor well what every parish or individual Parishioner is doing, and if possible put measures in place to come to their aid.
When we saw this interventions, we said wow!, this is really a laudable idea by our Mother of SteemChurch and the entire executives who dreamt this vision. Since that day we have been working tirelessly and around the clock, going to the drawing of our old project to see how we can put things together and come out with a workable working proposal for the Mother Church to review it for us.
We are also happy that and Email Account has been created to keep all these preliminary proposal of projects, so that when these projects kick start the Mother Church can trace all stated content of project and see to it that they are in conformity with the actual work that we are embarking on: [email protected]
Now our preliminary proposal project under social development (Education), the Name of the Project is "SteemChurch Education Support Project (SESP)" as you used to know. The working proposal of the project content such as objectives and others will not be entirely changed, but have been modified to meet the criteria of our Mother church as specified in the post. This also mean that it is subject to review by our mother Church that why we want to share it here after the Mother Church been approved and OK with the content of the model of proposed project, then it can now be published in our Email given.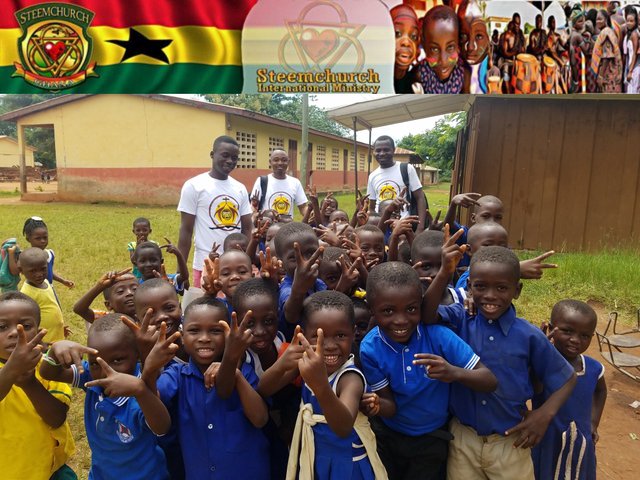 THE PRELIMINARY PROPOSAL PROJECT OF STEEMCHURCH GHANA - STEEMCHURCH EDUCATION SUPPORT PROJECT(SESP):
The title of the project is SteemChurch Education Support Project(SESP)

SESP is located in SteemChurch Ghana

The project is primarily initiated to support the needy pupils at the deprived Basic School in Ghana. As Education is noted to be the key to success in everyone's life. To get the solid foundation, we have to commence from Basic Schools which is the basis of the educational ladder before we climb to higher institution like University. So, it has been our keen interest to support these needy at the deprived/remote Basic Schools with the Basic materials such as Books, School Uniforms, exercise books and pens to also enjoy the best of Education.

Our Main Goal as SESP is to raise the standard of Education in the lives of pupils in the deprived Basic Schools who lack Basic Materials in order to bridge the gap between the urban Schools and the deprived Schools. Which will also mean to support government who have so many task to cover, to decrease the burden on the government.

The method we would want to use to achieve this proposal objective, is to first of all visit the needy pupils at the deprived/remote Basic Schools in our Communities one School at a step. Gather some background information of these needy pupils from their teachers. For example, whether they are able to afford to buy exercise books for all the subject, the kind of School uniform they used and whether they are able to buy food when they come to School and all that. For those that would be registered into Steemchurch Telos, we will also share our experiences with them on our success story of Steem journey.

The project(SESP) is directed to the needy pupils in deprived Basic Schools. Ranging from kindergarten to Junior High School. Our target group have ages from five(5) to fifteen(15). They are both males and females to ensure agenda equality.

In our methodology as SESP, We will locate Basic Schools at our deprived Communities and arrange for visitation. Through observations and interviews of both the teachers and pupils we will be able to come out with the living conditions of the pupils. The using of mobile phones and laptops will be the major instruments for collecting data on pupils. More importantly when it comes to taking pictures, recording videos and collating information on pupils for SteemChurch Telos registration.

The project is planned stage by stage to get accurate information of the pupils before necessary action will be taken.

At each stage of the project of SESP, members of SESP will sit down and evaluate the weaknesses and strength of the project. We will ensure that concrete measures are put in place to move the project forward.

The main resources that will go into this project is human base resources which involve each parishioner supporting SESP, when it comes to meetings to take decisions on the project, or to move to rural communities to visit our target groups(pupils), we appeal to members of SteemChurch Ghana not to hesitate to come to support of SESP. We also appeal to all stakeholders and philanthropists of STEEM to come to the aid of SESP to help move the church forward. The second important resource is finance to support the SESP, the items we have estimated to buy to be able to sponsor these needy people, the fuel we will use for all these rounds. Basically the funds is from the SteemChurch Account. We know that Steem is low, yet the little that we have will be used to finance it as we used to do and God will also touch some of members of SESP heart to able to help this project.

We estimate positive result on our target group, the community and the country at large. It will improve the standard of education of needy pupils in deprived Basic Schools, and also broaden their knowledge on the usage of part of internet known as Block chain Application, as we adopt pupils to SteemChurch Telos.

The project will be termly basis, as we are dealing with pupils. In Ghana are Basic Schools have three terms: first term start from SEPT-DEC, second term start from JAN-APRIL, and third term starts from MAY-AUG. These are the periods that pupils are around and we will get them as well. So, SESP want to schedule our activities in line with the terms, so it means each term may have different activity to embark on.

Now, this is what so far when we went the drawing board we were able to come with as SteemChurch Ghana on the Model for the Preparation of the Preliminary Proposal Projects. We officially present it for review by our Mother Church- SteemChurch International Ministry after which we can forward it the our Email provided.
We thank the the founder of Steemchurch, @sirknight for his immense support and love he has shown to improve the Church, we also thank our lovely friend of SteemChurch, @sniffnscurry, we again thank the Leader and Mother of SteemChurch International Ministry, @darlenys01 for her great ideas to transform the Church. Many thanks to all the Leaders of the various Sub-Parishes and the entire Parishioners for your support.