Who have you chosen over Jesus Christ?.
Bible text;
Mark 15:6-15.
"The world is known for making bad choice and probably regret it later, ages long, we have seen leaders who perverted justice and multitudes that have yielded to evil influence of their leaders".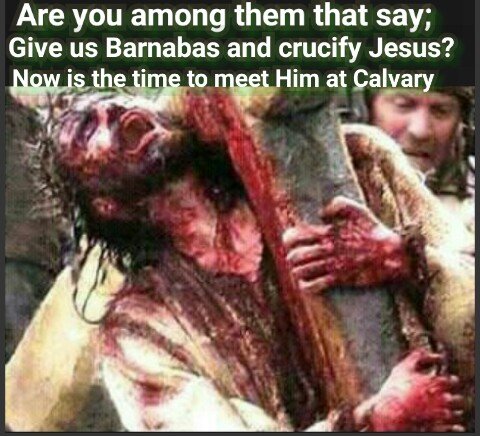 Don't follow the crowd to commit evil, you can be different, only if you focus on Jesus Christ.
Jesus Christ is known for peace and helping the people, He's always moved with compassion and sincere love, which is seen in His desire to heal the sicks and deliver those tormented by evil spirit, feeds the hunger, while the Pharisee or their chief priest are responsible for a lot of their misfortunes and hardships, they uses the law to afflict and torment them to the extent of killing, no mercy from them at all...... while would the multitude chose to listen to such kind of leader over the person that have come to liberate them from their tormentors.
The Bible recorded that, Jesus Christ was brought before Pilate, to be condemned to death, Pilate who wants to win the heart of the people, although saw that, the man standing before him is innocent, and truly the son of the living God, (because his wife told him), that Jesus' accusers are only motivated by envy, still went ahead to satisfy his selfish interest.
Do you judge for men to applaud for you, rather than God approving you, please have a rethink for this message has come for you to have a sober reflection and repent!.
Pilate made a move that landed or pushed him to the cul de sac(end of the road), he wanted to please the world, although he saw the true son of the living God in Jesus Christ.
Many of today, although have seen every reason to accept Jesus Christ into our life, because of what people will say, they have decided to dine with the wrong people, come out of them and be different... Says the lord God!.
Jesus remained calm, even in the face of that trouble, watching those He healed and fed choosing a thief over Him, it's disheartening, the same people He's about taking the torturous journey to the cross to die for, is there displaying a high level of hatred towards Him.
Because He's determined to see them delivered and saved on the last day never altered a word in defence, He knew a word that would have saved Him, but He refused to say it, just for you and I to be saved.
Don't be like the multitude choosing a thief over Jesus Christ.
Your suffering maybe fulfilling a purpose; through His suffering, He was able to fulfill His purpose of coming to the earth.
God will always strength us to pass thorough any situations of life as long as we are operating within His will.
Among all the people involved in the event or history, who do the world know today?.
The Bible says there is Time for everything; this is the time to accept Jesus Christ, for repenting from all your evil ways.
It's only your choice that will make you different.
Avoid that mistake by learning from history and applying or implementing the knowledge into our daily lives.
Their decision by choosing Barnabas a criminal over Him, led Him to the cross, where He died an undeserved death, but our decision today will definitely place fulfilment to the purpose of that death, and make Him smile.....Repent!!.
JESUS IS ALIVE!!!