Are you considering the devil's offer?....
"When we reject devil's tempting offer, we found God's lifting angel."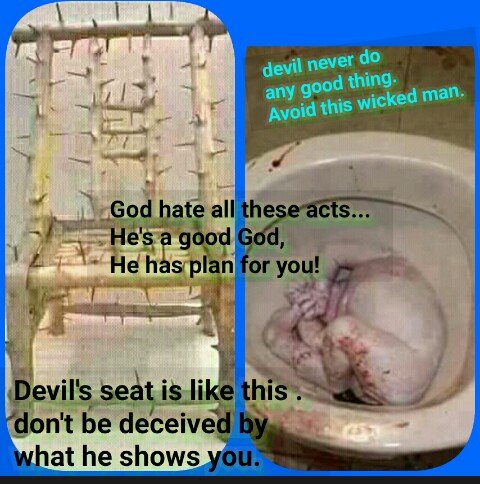 The world is governed by Satan, but only few believe it, when Adam and Eve sold the right to him, man lost his kingdom and inheritance from God, and the devil been a rebellious figure, always seeking to replace God in everything, knew the interest of God in man and His purpose of creating them (worship), now turned to man with the same thing he (devil) deprived man to lure man to worship him; what deceitful life.
Instead of man to hate this evil one called devil for what him have done to him, they are even more close to him than ever, what an irony of life!
"Devil has no power to give a lasting wealth because, he stole it from man."
Actually, when we reject devil's tempting offer, God sends his Angel to lift us out of the presence of Satan, from the high mountain that he took us to.
**Everything we are facing today has once be faced by Jesus on earth, He felt the pangs of pains and hunger in a wilderness with devil alone, but He applied self-control over the temptation to act in devil's command, because Jesus knew that man can not live by bread alone.
"If you are the son of God, turn this bread into a bread", but Jesus gave him (Satan) the reply he deserved.
If it were to be our time, I foresee multitude of self-acclaimed men of God hastily falling to the temptation of turning that stone into bread, bowing to devil to get all the earth, but "what shall it gain a man to profit all the earth and loss his very soul?".
"Jesus said, for it is written that man shall not live by bread alone but by words that comes out of the mouth of God."
Hunger opens the gate for the devil's offer and the uncontrollable desire to be rich makes us a prey before the evil one.
If all you need is that which fill your stomach, your close to dashing your foot against the rock, because, there won't be an angel to carry when the devil will push you off the cleft, when he's done with your service.
The devil is a deceiver and will always be, he never kept his words, he's father of all liars, the bread he gives turns to gravels in your mouth, and fill your mouth with blood...; why not depend on God?
Satan will only show you the glory of his kingdom but will never allow you to enjoy them; what's the need of selling your soul to devil?.
When you lest expected it, he (devil) push you down from the cleft, but my God is never a deceiver, He said, I have not called the seeds of Jacob to serve me in vain;..
Moses said; you must serve worship Jehovah and He will bless your water and food.......
Evil wealth is the reason we have numerous and unmeasurable wealthy women and men, that can't contribute a stipend towards a peaceful world, when they do, it's for heralding evil agenda.
Devil never give anything good!.
Trust in God, and He will surely provide for you...