STEEMCHURCH - MY DECLARATION OF MEMBERSHIP
A warm greeting Dear friends and brothers
Welcome to my blog
God bless you!
Today I am extremely happy because the good work that God began will take her through paths of justice, peace and love. Today I want to ratify my commitment, my loyalty and submission to the wonderful church of @steemchurch for the first blockchain church and work hand in hand with our great leader @darlenys01 and our founder @sirknight.
I also ratify my commitment to all the parishes that comprise it, especially the parish of @sc-v with which I have worked since its inception, and I will always be on the battlefield, willing to put my talents and gifts at the service of this good work that goes hand in hand with God, which is carried by my sister @ricci and where you can count on me as Paul had timoteo for the service of this living God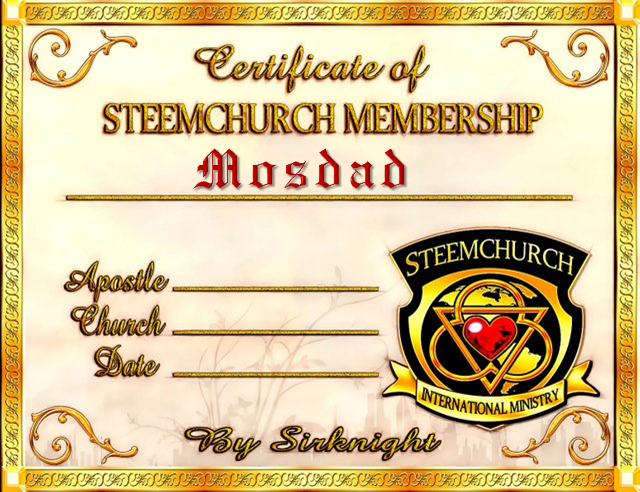 16 Truly, I am not ashamed of the gospel, for it is the power of God for the salvation of all those who believe: of the Jews first, but also of the Gentiles.
Romans 1:16
so I can say today, "I AM NOT ASSAULTED OF BEING AN ACTIVE MEMBER OF @STEEMCHURCH INTERNATIONAL MINISTRY "
12 In fact, although the body is one, it has many members, and all the members, however many, form one body. So it is with Christ. 13 We were all baptized by [a] one Spirit to constitute one body-whether we are Jews or Gentiles, slaves or free-and we were all given to drink from the same Spirit.14 Now, the body does not consist of a only member, but of many. 15 If the foot said: "Since I am not a hand, I am not of the body", it would not stop being part of the body. 16 And, if the ear said, "Since I am not an eye, I am not of the body," it would not for that reason cease to be part of the body. 17 If the whole body were an eye, what would happen to the ear? If the whole body were heard, what would be the smell? 18 Actually, God placed each member of the body as it seemed best. 19 If they were all one member, what would be of the body? 20 The truth is that there are many members, but the body is one.
1 Corinthians 12: 12-20
and I would not like to say goodbye without first sharing with you my brothers a great experience and blessing which was participating in the first meetup of steemchurch.

--
BLESSINGS!!!