LOVE THE UNIFYING FACTOR
Every relationship presupposes some entry into a contract or agreement. And once there's a breach of contract, tension ensues. And once there's tension, the relationship suffers.
By the fact that we've been created by God, a relationship has been established. And the reason for which we were created now becomes the project, the agreement or the contract that we must accept & advance.
We were explicitly reminded that GOD IS LOVE (cf. 1 John 4:8)! And as those who have been fashioned in His image, we must reflect love. This is the first project that we must advance; a special term of contract that we must adhere to. The second reading of today's mass draws our attention to this all-important task.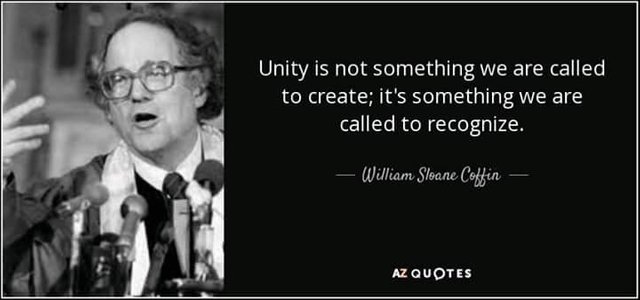 Today, we are being implicitly reminded that GOD IS ONE, that GOD IS UNITY (cf. Deut. 6:4; John 10:30)! And the passionate prayer of Jesus, clearly spelt out in John 17:11b-19, is enough to convince us that we have a serious task on which our survival, happiness & eternal destiny depend. As He prays that WE MAY BE ONE, He is drawing our attention to the fact that we have been created to reflect the image of this same God who is ONE , the God who is UNITY.
All these above should quickly communicate to us that we must be LOVING & must also be UNITED. At those moments we've distanced ourselves from these imperatives, the results have been very disastrous. History is very clear on that! Remember the damages of the two world wars & other wars that have decimated the human race! Today, we are still suffering from untold woes because we've continued to breach the very contract or agreement that we had by spreading hatred & division.
FOR OUR OWN GOOD THEN, FOR OUR SURVIVAL AS A RACE, WE MUST GO BACK TO THE TERMS OF THAT VERY CONTRACT! OUR CONTRACT IS OUR PROJECT, & OUR PROJECT IS TO REFLECT GOD IN WHOSE IMAGE WE WERE CREATED. GOD IS LOVE! GOD IS UNITY! IT IS THIS UNITY & LOVE THAT WE ARE BEING CALLED TO RECOGNIZE & LIVE OUT IN OUR RELATIONSHIPS WITH OTHERS.