Do it in time
So be careful of their way of life. Do not live as fools but as wise, making the most of every opportune moment, because the days are bad. Ephesians 5: 15-16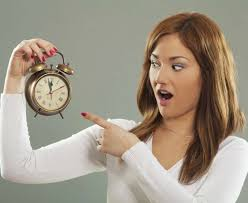 source
There is a popular saying that says: do not leave for tomorrow what you can do today. This is a very valid suggestion, and we apply it to our daily tasks. But it takes another dimension when we apply it to our relationships. When we let the time pass without that we repair our broken relationships, when we postpone the moment of telling our loved ones how much we need it, or the time goes by without asking or giving forgiveness, the results can be catastrophic.
To postpone things, to leave them for later, seems to be a very frequent habit, but that does not stop being dangerous. In the Bible we read "If they get angry, do not sin. Do not let the sun go down while you are still angry, or give space to the devil (Eph 4: 26-27)
When we leave home every morning and we are angry with someone close to our heart, we do not know if we will see it again. Then today becomes very important when once transformed into yesterday, we did not do or digest what we should have said or fact. In this way, remorse, guilt feelings, impotence, pain and repentance arise. The call to God to our heart says: give up all bitterness, anger and anger, shouting and slander and all forms of malice. Rather be kind and compassionate to one another, and forgive each other, just as God forgave you in Christ. (Eph.4: 31-32)
I am writing to you, wife, do you have a debt of love with your husband who threatens your marriage? I am addressing you, mother, have you hurt your son's heart and therefore now you do not have happy moments with him? I direct to you friend, have you broken the heart of a friend by a discourtesy, and so you have deprived yourself of living a beautiful adventure of friendship?
Whatever your case, I just tell you: Do it on time, do not wait for it to arrive tomorrow and find you with an empty soul and a lonely heart. Do not let the cold of indifference freeze your heart until it dies! Love, forgive, reconcile, but do it now!