---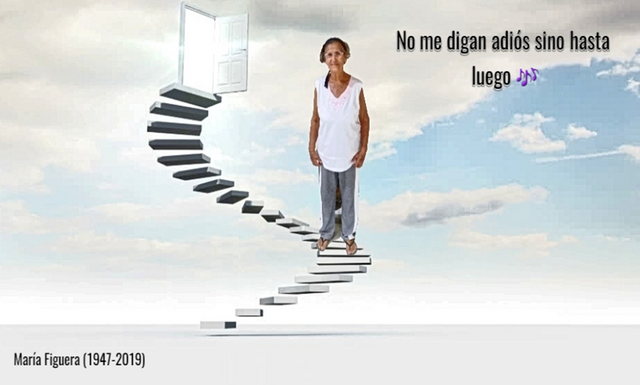 How I miss you
Greetings my beloved Brothers of Steemchurch, today I decided to write a little but I confess that I am still very discouraged to do it, everyone knows that a few days ago my dear Lady Maria passed away this strong and brave mother of my beloved husband @emiliocabrera was also a mother for me, my partner of the last years.
There were many battles that we fought together but the Lord decided to take it with him. When we lose special people in our lives, a huge hole remains in the chest. It is impossible not to give in to the weeping and the relief, because nobody is made of iron. But we need to move forward, and how can we continue to leave only the good memories back? God Himself consoles us in His Word: "I dwell in the height and the sanctity, but also I dwell with the broken and humble spirit, to make live the spirit of the humble ones and to vivify the heart of the broken ones" (Isaiah 57: fifteen).
Only God is able to comfort, comfort and strengthen us in the moment of mourning. That is why we must attach ourselves to Him with all our strength, especially in these moments of pain. Death is part of the natural cycle of the human being and we will not be the first or the last person to go through this sad experience. But we can choose in annoyance with God because he no longer has the person with us, or we can thank him for giving us the privilege of living with someone so special in an ungrateful and unfair world.
But, understandably, even we, Christians, who have hope in eternity with Christ, suffer with death. The same Lord Jesus wept when his friend Lazarus died. The Bible says that "it shook in spirit and became problems," and soon "was delivered to the cry" (John 11: 33,35). With that, we see that mourning and mourning when someone we love dies is not a sign of weakness or lack of trust in God. King David wept when his son Absalom died and shouted, "Oh, that I had died in his place!" (2 Samuel 18:33) But we must trust that God is sovereign and when we believe in the resurrection of those who believed in Jesus, our sadness becomes less heavy. As the Bible says: "I will not be sorry as the others who have no hope" (1 Thessalonians 4:13).
If you are also going through pain, know that God wants to be your father, your comfort and your best friend. If you approach Him in prayer and depend completely on Him, your strength and faith will be renewed and He will bring back your joy of living. And the Bible promises that "He will sustain himself and never allow him to be moved" (Psalm 55:22).
Thank you for reading me beloved, I hope to encourage you to be more often with you God continue blessing. Stay with the Lord.
---