STEEMCHURCH INTERNATIONAL MINISTRY: DECLARING MY MEMBERSHIP
GREETINGS, LADIES AND GENTLEMEN
---
It has and will always be my pleasure to write to you all, owing to the fact that I derive so much joy and I also find purpose doing so. I do hope my publications inspire, motivate and give you reasons to live life and also serve God in your own capacity. Actually today is not a day for much talks, so I will digress to the business of the day.
---
I happened to hear of Steemit about two years ago from a friend and I particular took interest in it owing to the many benefits it had to offer. So, I decided to come on board and ever since then, I have never had any reason to regret. I wouldn't say my journey to the reputation I now have was simple and very easy. It wasn't but this awesome community of Christians known as the STEEMCHURCH (founder by @Sirknight) made it fun filled, worthwhile and purposeful. Recognizing with this community has contributed enormously to my growth in life, both physically and spiritually. I can't count the many things this community has done for me but I will not fail to particularly thank the community for contributing to the paying of my school fees in the soon to be completed semester. I was indeed awed by the act of concern and love. Thank you @sirknight, @sc-n and @steemchurch in general.
---
Steemchurch is indeed a blessing and I am proud to be a part of it! You too can be a part!!
---
Looking back at all these things, I find reasons to always be recognized and known as a member of this amazing community. Whatever my achievements will be on this blockchain, whatever height I will attain in the steem blockchain, my roots will always be the STEEMCHURCH INTERNATIONAL MINISTRY.
---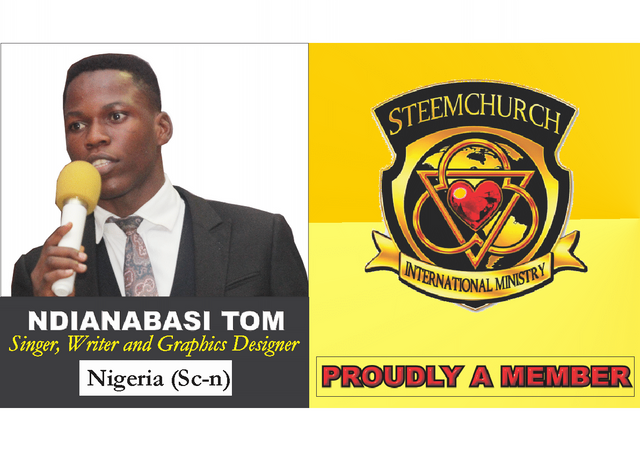 ---
Sometimes, I ask myself if I have been able to also be a blessing to this community; the answer of which I'm yet to give. I believe that it is now time to also give back to this great community, hence, this declaration:
---
I pledge to always lift the banner of the Steemchurch International Ministry high wherever I find myself. I solemnly pledge to always support and contribute my quota to the achievements and attainment of the church's set goals and objectives. To be a beacon of hope to many within my reach through the blessings from the church. I pledge that through my God-given gifts and talents, I will always edify the church and the body of Christ. On this day, I publicly declare my forever membership to the Steemchurch International Ministry and I am pleased to note that I will always be ready to serve the church in whatever capacity the church will assign to me. Together we can and together we will certainly run this race set before us to the end and then just like Paul the Apostle, we will look back and say boldly that we have finished the race.
---
To the present leadership of the Church (@darlenys01 led administration), fear not and do not be discouraged or disheartened for He that began a good work is faithful and able to bring it to good and excellent finish. Success is ours and we will achieve it. You will always have my support. I believe in what we can achieve!
---
To every other member of the church, I implore you all to brace up and join hands in the building and establishing of the STEEMCHURCH INTERNATIONAL MINISTRY, for the task ahead of us is massive. Your efforts will never be forgotten.
---
LONG LIVE THE STEEMCHURCH INTERNATIONAL MINISTRY