FINISHING STRONG: HE THAT BEGAN A GOOD WORK IS FAITHFUL TO COMPLETE IT
By this post, I wish to show my gratefulness to God Almighty who has always been so faithful and good to me. Without Him being by my side, I do not know where I would have been today. Initially, it was as though there was not going to be a way but since God is a specialist is paving, making and creating ways, He made a way for me and I ended the first semester of my finals on a very strong and good note. Thank you Jesus!
---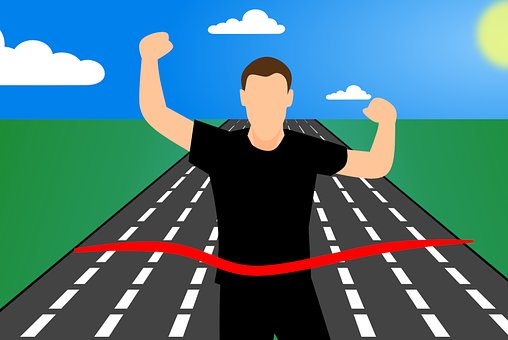 source
---
Whatever it is you want you do, whatever dream and aspiration you may have, whatever target you want to reach in life, always and always put your hope and trust in God and He will always see you through. Definitely, it might appear or look impossible a times and sometimes, you may have reasons to be fretful but do not give room for doubts; do not be discouraged. Let your strength be in the fact that "WITH GOD ALL THINGS ARE POSSIBLE"
---
I just hope my testimony can give one a reason to not give up in life. Through this testimony, I wish to encourage anyone out there who feels all hope is lost. There is hope for you when you hang your expectation on God. Acknowledge Him in all your ways and He will work wonders for you.
---
The just concluded semester began on a wrong foot in the sense that I did not sufficient cash to pay my fees. At some point, I thought and resoluted in my heart that I was going to suspend my studies due to the fact that the time-frame for payment was almost elapsing. At this point, I learnt that negative thoughts had a way of making you not to see opportunities even though there were right in front of you. I never saw any possibility in reaching the deadline, not until I discarded the negative thoughts and imaginations in my heart. THINK POSITIVITY AT ALL TIMES!!!
---
I got my courage back because deep down I did not want to suspend my studies as it was delayance on my path. It was then I summoned courage to ask for help and I did find help through the grace of God. God used the steemchurch and other persons to be a blessing to me. I paid my fees before the time for closure and today I just wrote my final paper for the semester. I'm so grateful to God for helping me finish strong and I am certain He will also help you finish strong in whatever you are done.
---
Sometimes, you may be faced with storms and trials but it does not mean that God is absent. He is always with you and waiting for the right time to manifest. Do not put your trust in man because man may fail you. Put your trust in God; believe in His Words and it will certainly work for you.
God bless you!
---
STEEMCHURCH TELOS EXPANSION
---
JOIN US ON TELOS HERE, Use 'Tomlee.jc' as Referrer
---
REMEMBER TO SEND IN ANY 2 TOKENS (TLOS OR ACORNS) TO RECEIVE HEARTS - MARKETS.JC