Temptations, Tests and Trials...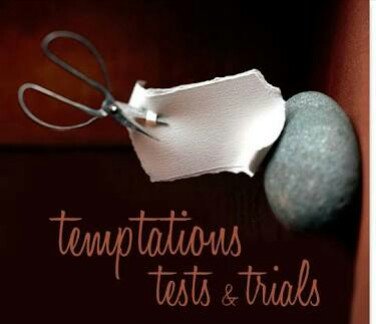 Image source
Temptations, Tests and trials are part of the human life. With respect to the challenges you are facing God is testing you, the devil is tempting you and you are passing through trials of life!!
Scriptural Reference
"Count it all joy, my brothers, when you meet trials of various kinds, for you know that the testing of your faith produces steadfastness. And let steadfastness have its full effect, that you may be perfect and complete, lacking in nothing. (James 1:2-4 ESV)
For everything that has to do with your life, God who is your creator and devil your arc enemy is very interested. Everything you are passing through; to God it is a test, but to Satan is a temptation and to you in the situation it is a trial.
Test of life is necessary because God will never use a man he has not proved and he will never place anything serious into the hands of a man who cannot stand the test of time. The likes of Joseph, Abraham, Daniel and David were tried before they became something for God.
The devil will always try all he can do to ensure that you fall and your destiny fails under God. Hence, you must submit yourself to God and His principles. If a man is with Jesus in temptations he cannot fall. A man only falls when he is far from God or there is a gap between him and his creator.
Question For Meditation:
What is God saying about you as far as various test, trials and temptation is concerned?
Main Emphasis:
Temptations, Tests and trials are inevitable in every facet of life!!! So don't be afraid of them.. God is always with you...
Have a Graceful Week Ahead Fam!!
Keep Steeming 💪