CLOSE TO GOD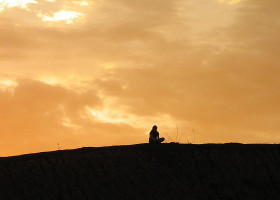 Source
---
---
I have loved you from the beginning and waited like the sentries in the morning.
I know that your coming is very close, my heart tells me, nature screams.
I am so close to receiving what you have promised me, that I am excited.
Just as the bride waits on her wedding day: radiant, decked out, smiling and full of illusions, this is how I feel.
Sometimes the wait has tired me and the desert has dehydrated me emotionally, but your water has rekindled me.
Climbing the mountain I have slipped and many times I thought that I will fall without being able to climb it and that I will die in the attempt, however your hand has extended and has helped me to reach the top.
You have been the one who has marked the path and guided my steps so that I do not get lost.
You have caused me to love your truth and your words, your commandments are inscribed in my heart.
Where else can I go, if you are my salvation, you are all I need!
There is no place in or out of this world that is safer than being hidden and protected under the cover of your wings.
In your hands there is security and in your heart full rest.
I love you, that is the only truth that I think about everyday and that my soul feels!
The only way is you, lead me on the path and do not let me walk away.