DON'T BE SLUGGARD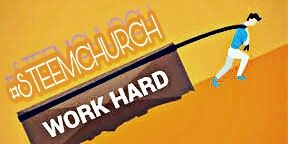 Good Day #STEEMCHURCH. I was inspired this morning and decided to write this Article. I hope this Article Inspire someone today.
FIRST A SLUGGARD IS :
A person who is lazy, stupid, or idle by habit.
A person slow to begin necessary work, a slothful person.
A fearful or cowardly person, a poltroon.
'Go to the ant, you sluggard!'
Proverbs 6:6
What exactly is a sluggard?
Robert Hicks says,
'Feeling we're entitled to things without being willing to do the necessary labour to obtain them makes us a society of sluggards.'
There's one thing you'll never convince the sluggard of: that he's a sluggard.
'The lazy man is wiser in his own eyes than seven men who can answer sensibly'
(Proverbs 26:16 NKJV).
Even if seven wise men tell him he's lazy, he will not admit it - no matter if he's outnumbered seven to one.
You can tell a sluggard, but you can't tell him much.
'The desire of the lazy man kills him, for his hands refuse to labour'
(Proverbs 21:25 NKJV).
A sluggard's two favourite words are 'One Day'.
You can hear him or her saying, 'One day I'm going to hit it big.' Or, 'One day I'm going to own my own business.' Or, 'One day I'm going to...' (you fill in the blank)!
He or she always has an excuse as to why they can't work.
That's the meaning of Solomon's statement:
'The way of the lazy man is like a hedge of thorns, but the way of the upright is a highway'
(Proverbs 15:19 NKJV).
When the sluggard looks out the front door of life, he doesn't see a highway of opportunity, he only sees one big briar patch.
Benjamin Franklin was right when he said, 'I never knew a man who was good at making excuses, who was good at anything else.'
Bottom line:
The sluggard would rather make an excuse than make a living.
So the word for you today is:
Don't be a Sluggard!
Using this medium to Encourage the Apostles of #STEEMCHURCH @steemchurch @sirknight @sniffncurry @jaff8 @abiye @druids @owoblow for their Hard work and Efforts in making this community a better place.
God Bless