"There is also no condemnation for those who are in Christ Jesus, because through Jesus Christ the law of the Spirit of life frees me from the law of sin and death. Because what was impossible for the law ... God did it by sending us his only son ... so that the justice of the law would be fulfilled in us, that we do not live according to the sinful nature but according to the Spirit. (Romans 8 1: 4)
We need a change, because who stops changing, stops exceeding. The life or the call of the believer is to go every day approaching the image of Christ, because, says the Bible, we are transformed from glory to glory in his own image; that is, the transformation does not end when Jesus is received, but at that moment it begins. The Scripture also says that "He who began the good work in us will perfect it until the day of Jesus Christ", speaks of a progressive work that does not end until Christ comes a second time, that indicates that the work of the Holy Spirit is permanent, is to improve ourselves and approach the image of Christ, so we must be willing to change every day. So, every day we must be better and open ourselves to what the Holy Spirit wants to do in us.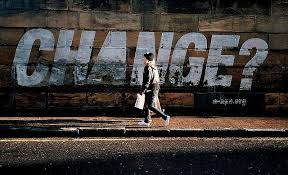 Source
"Your dreams must be more powerful than your fears" Pedro Sifontes
You can not pretend to achieve your dreams, living accompanied by fears. You can not change when you resist the change. If you want to change and be someone else, the old thing has to go, you have to let go, you have to start dressing the new person.
Today is a good day to begin to unleash the change in your life. I hope that this reflection will help you to rise up and take you back to the heights.
WE CAN CHANGE THROUGH THE POWER OF CHRIST IN OUR LIFE, THROUGH THE FORCE OF GOD IN OUR INTERIOR.LEARN TO REST IN THE POWER OF CHRIST. WE HAVE THE NECESSARY TO CHANGE: 2 TIMOTHY 1: 7
The worst of the believers is the one who comes to think that his religious practices do not need a change. We must be very clear that we all need to change, because if we change, everything else begins to change as well. When we change and extract anger, anger and self-sufficiency, we immediately begin to see our fellow man in a different way. The change begins with each one, from the heart. We can not ask God to change others, when we are not willing to change.
Now, let's make sure that the changes that are taking place in our lives are not to please those around us - even though we love and respect them a lot - but rather to please God and bless the majority of those around us. This is called obedience and is the basis of change. When we are willing to obey God, the change of our life is safe, because it is God who directs us day by day.
The decisions that today can be compromising, tomorrow will bear fruit, especially when those decisions were made renouncing things we love. Whenever God wants to make a major change in our lives, he will ask us to make important renunciations. Nobody in life, in the scale of values ​​of the human race, has obtained great results with few efforts.
What are those changes that you have always wanted to happen in your life? I am sure that most of us have that desire to change, change their financial situation, change careers or work, change relationships, habits or even change the CD of bad thoughts, low self-esteem, insecurity and of the distrust that there is in your life. We all have that desire for change and those who believe they can do it alone are frustrated because they can not do it. I believe that the change comes from God and it is He who produces and initiates the change.
"Nobody bathes twice in the same river." Heraclitus
---
---