As A Clay In The Hands of A Potter So Are We In God's Hands
God was up to something when he gave out His word to the prophet, Jeremiah, to go the Potter's house. God wanted to show the house of Israel his ability to remake or mould them to be a vessel of honour should they denounce their evil ways and commit themselves only to God.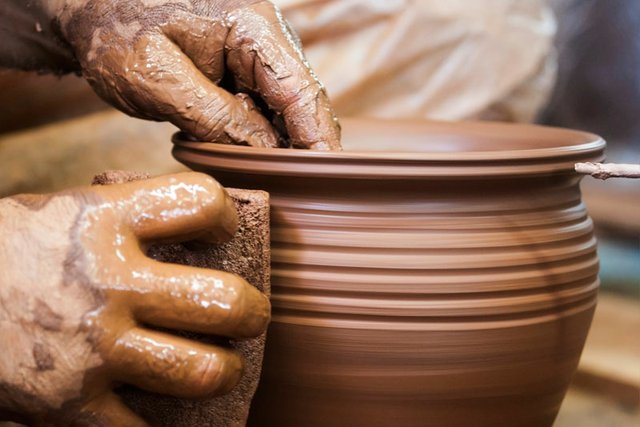 Source
The word which came to Jeremiah from the LORD, saying, Arise, and go down to the potter's house, and there I will cause you to hear my words. Then I went down to the potter's house, and, behold, he worked a work on the wheels. And the vessel that he made of clay was marred in the hand of the potter: so he made it again another vessel, as seemed good to the potter to make it. Then the word of the LORD came to me, saying, O house of Israel, cannot I do with you as this potter? says the LORD. Behold, as the clay is in the potter's hand, so are you in my hand, O house of Israel. At what instant I shall speak concerning a nation, and concerning a kingdom, to pluck up, and to pull down, and to destroy it; If that nation, against whom I have spoken, turn from their evil, I will change from the evil that I thought to do unto them. And at what instant I shall speak concerning a nation, and concerning a kingdom, to build and to plant it; If it does evil in my sight, that it obeys not my voice, then I will change from the good, with which I said I would benefit them. Now therefore go, speak to the men of Judah, and to the inhabitants of Jerusalem, saying, Thus says the LORD; Behold, I am shaping evil against you, and devise a plan against you: return you now everyone from his evil way, and make your ways and your doings good. Jeremiah 18:1-11
God has the power to tear down or destroy any individual or nation that goes contrary to His commands. He can break us to the point where there will be no cure good enough to heal us except in his hand.
A lot of people find it so hard believing that God can actually destroy His own creation that He has made in His image and likeness and so are not all that careful amd mindful of how they live in accordance with His statutes. Such folk believe evil can only proceed from the devil but not from God.
We have been made aware in God's word of how God Himself can cause evil to visit any nation or an individual that will go against Him. We are God's creation and we are in the palm of His hand and do not own our lives so the more obedient we should be to avoid his wrath.
We must avail ourselves for the master's use just as a clay does in the hands of the potter. Commiting ourselves to God and following his ways is something we should delight in.
God can mould us to be perfect for his use if only we can turn from doing evil and make our doings good.