THE ALL MIGHTY
God is Holy.
God is Holy, He is an all-powerful God, a God of love and mercy, He is also a Covenant God, and we must keep in mind that we are covenant men and women, that our children and our families are covenant, a eternal covenant between God and man.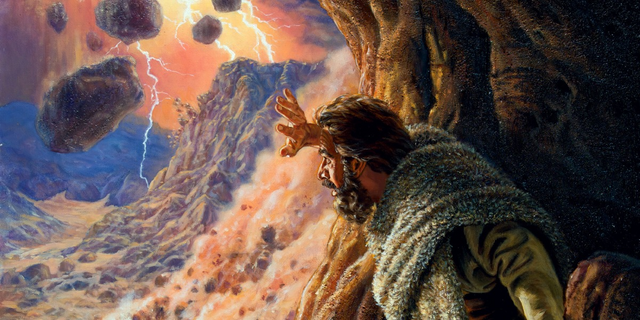 Source
When Abram is 99 years old, God confirms the covenant that he had made when he was 75 years old. It means that since then Abram had already walked with God 24 years, waiting for the promise, as promised by God for him, God. he just told him to obey me and behave whole, straight, just, before my eyes, practically told him: he is holy as I AM HOLY.
The covenant of God with Abram
Genesis 17: 1 When Abram was ninety-nine years old, God appeared to him and said: I am the almighty God. Always obey me and behave with honesty. 2 I'm going to make a pact with you: I'm going to make you have many, many descendants. Believe me if you have read the story of Abraham, he knew how to wait for God's time patiently and received what was promised, I do not know what things God has promised you, but I do know that he is a powerful God, that what he says does, have faith wait and you will see that he will do as he told you, wait because the final reward is eternal, Paul received the promise God; He made a pact with him and Pablo writes:
To the final
Philippians 3:12 By this I do not mean that I have already accomplished all that I have told you, nor that I am already perfect. But I can say that I keep going, fighting to reach that goal, because Jesus saved me for that. 13 Brothers, I know very well that I have not yet reached the goal; but I have decided not to focus on what I have already covered, but now I focus on what I still need to go. 14 So I go on, towards the goal, to take the prize that God calls us to receive through Jesus Christ. Paul recognizes his impotence, Paul recognizes that he is not yet perfect, he still has feet of clay, but he affirms: I go on, then he warns us that it is a constant struggle, that he keeps fighting to reach the eternal promises of God, the affirms that you are going to forget about the past and fix your efforts on what is missing, I do not know what your condition is, I do not know what is in your heart, but I tell you honestly: let's let go of the past, let's forget about the failure and that it was not, of all the bad things that happened and put our eyes on the author and finisher of our faith, Jesus Christ, let's see what God puts before us, Paul affirms that I want to reach the goal, the prize of eternal life, that is why I will rest until I reach it.
Genesis 5:24 And Enoch walked with God, and was not found, because God took him with him. We have this example, Enoch found a way to be pleasing to God and God took him to his living kingdom, that should be our daily concern, seek to be pleasing to God, please in everything, to one day achieve the promise of God to live with him eternally, the demands of God are not burdensome but require effort, they are not expensive, they are not bought with money, but they are priceless, for he speaks of our attitude, I am the almighty God. Always obey me and behave with honesty God demands obedience, righteousness, fidelity, honesty, being righteous and pious, that we seek to be holy as he is HOLY.
2 Peter 3:18 Rather, grow in grace, and in the knowledge of our Lord and Savior Jesus Christ. To him be the glory, both now and on the day of eternity. Amen.
Peter exhorts us, that we believe in Jesus Christ, that we grow in the knowledge of him in order to imitate him in everything, that is why it is necessary to read the Bible and approach God in prayer, asking of his Holy Spirit to help you, because he is a God Almighty; He will do the work in each one of us; and will make it perfect.
2 Corinthians 3:18 But we all, with an open face, looking like in a mirror the glory of the Lord, are transformed into the same likeness, from glory to glory, as well as by the Spirit of the Lord. Paul speaks to us with a sincere heart, without pretense, loving God above all things, clearly looking at all things, that is why we must create and maintain an intimate and close relationship with Jesus Christ; so that we may be transformed to his likeness, that the glory of God may be poured out on us and that we may change, restore and transform the way God wants us to be, only the power of God can change us, but we must also strive to achieve the goal , and this will be done in every life and heart given to Jesus Christ; through the perfect work of the Holy Spirit.
John 17: 1 THESE things Jesus spoke; and lifting up his eyes to heaven, he said: Father, the hour has come; glorify your Son, so that your Son also glorifies you; We can see how Jesus Christ looks at God, he looks up, he asks God to glorify you, he asks me to fill you with your Holy Spirit, so that I can glorify you, we must seek to be filled with the power of God. Holy Spirit, to glorify with our life the Heavenly Father, our all-powerful God, Jesus Christ taught us, he did first glorify it with obedience the Father, so that we imitate him and do the same.
John 17:15 I do not pray that you take them out of the world, but that you keep them from evil. When Jesus Christ prays for his disciples, it is clear to ask the Father: do not take them yet, there is much to be done and a long way to go, but I ask you at all times to make a fence of angels around them to protect them, I ask you Even if you walk in a valley of shadow or death, keep them, that your hearts remain faithful to you, that evil does not captivate you, corrupt you and make you lose yourself.
John 17:17 Sanctify them by means of the truth; your word is the truth. Here is something very special, remember that Jesus Christ entered the synagogue and asked for the scroll and in the midst of all those present he read the word of God, he himself is indicating that if we want to remain clean before the Father: if we want to sanctify our soul and cleanse our heart; we have to read the word of God, we have to edify ourselves through scrutinizing and studying the Holy Bible, the Holy Word of God, and only the restoring power of God through the Holy Spirit will do the work, let the word take life within you, and from your interior springs rivers of living water.
John 17:23 I in union with them and you in union with me, so that they may be perfected in one, so that the world may have the knowledge that you sent me and that you loved them as you loved me. We can see how in this little paragraph: Jesus Christ gives us, teaches us, that we should have an intimate communion with the Father as he had it, and thus through the son be edified, cleansed and restored by the great love of God through of your Holy Spirit, Jesus Christ himself asks the Father to show them your great love, love them as you love me, it is the love of the heavenly Father for all of us, faithful true and eternal.
In summary:
Seek to give your life to Christ
Read the word of God, study it and study it every day, so that each day we can die to the self, and that we decrease and Jesus Christ grow within us.
Pray, keep a life of prayer asking the father like Jesus, he would ask for others, so we will create an intimate and close relationship with the Father.
Always seek to be filled with the power of the Holy Spirit of God to stand firm before you always, in every moment and circumstance.
God, I know that you are Sanyo and all powerful, I recognize sir that I have not yet reached the height that you want me to have to adore you as you ask; in spirit and in truth, I know that my life is not perfect even before your eyes and that is why today I ask you: Help me, help me to be faithful always, to seek at all times to honor your Holy Name THE GREAT I AM, teach yourself in my life and please I beg you every time there will be The Holy Bible to read it, sanctify my life, my mind and my heart to be nice to you, help me please I beg you in the name of Jesus Christ your beloved son, amen.
In the same way I ask you for help, strengthen and convince all those who will read this message, build their lives, restore them, raise them and raise them up for the glory of your Holy Name, glorify yourselves in them my God and Father, so that they may glorify you, In the name of Jesus, amen.
Jesus Christ Coming Soon
---
---