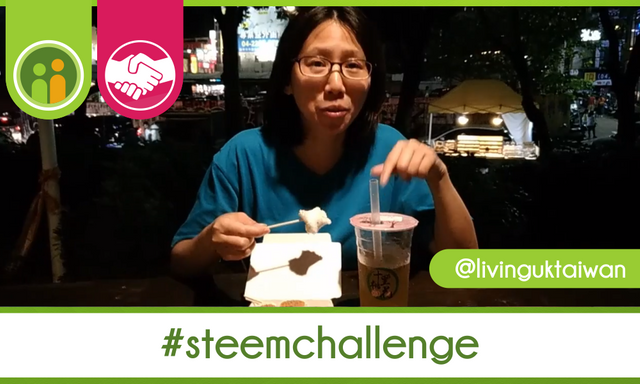 Authored by @hungryhustle/ October 2nd 2018
After enjoying @Waybeyondpadthai's and @The.Foodini's adventure in Thailand for 5 STEEM, we are now in the open park of Taiwan to have a special traditional Taiwanese snack called Champion Cakes. Can you guess how many you can buy just for 5 STEEM which was approx. NTD130 at that time? Thanks to @Livinguktaiwan, we now have some idea about what we can do with this much amount in this beautiful country.
Source: Livinguktaiwani's 5 SteemChallenge
This entry is special because of two reasons:
Witness the making of those yummy Champion Cakes
Buskers playing beautiful music during a lovely evening in the Park
As suggest by @livinguktaiwan in her entry blog, please go checkout the whole video and listen to the songs. One is a very popular Chinese song called "Special love for special you" and the other is where we all want Steem to go i.e. MOON!
For this amazing entry @livinguktaiwan receives a vote from @fundition and 3% of the rewards from this post!

@Promo-mentors and @Fundition have teamed up to create awareness of Steem and the Steemit community by challenging people around the world to come up with creative ways to spend 5 Steem! In today's prices 5 steem is about 4 US dollars.
Depending on where you live, you may only be able to buy a Starbucks coffee while others are able to buy groceries or a nice present with that amount. What we want is to show people that it is possible to earn cryptocurrency (Steem) by starting a completely free account on the Steemit platform.
We don't want to send out the wrong message that everyone can become rich from Steemit, but just that Steem is here, that it has real monetary value, and is here to stay!
To join simply go to our website page and follow the steps!
Link to the Steem challenge page.

Every 2 weeks on Sunday we gather in our online Discord group to talk about the featured submissions and vote for the top 3 Steem challenges. Winners will receive 5 Steem each!
Come and join to meet new friends and find inspiration! This is the invite link to our Discord group. You can find the exact dates of the talks in the news channel.
We are grateful to @livinguktaiwan for sharing such awesome 5 STEEM Journey and to @fundition for partnering with us on this challenge!
We invite everyone and anyone to take part in this challenge. Show us your creativity and help to grow the Steemit community by showing how versatile crypto is and how seamlessly it can be used in daily life.

Reward distribution post:
Account 48%, Curators 30%, Author 20%, Featured participant 2%