FINALLY DOGS GLOBALLY WILL GET A BETTER WELFARE WITH DOGDATA PROJECT.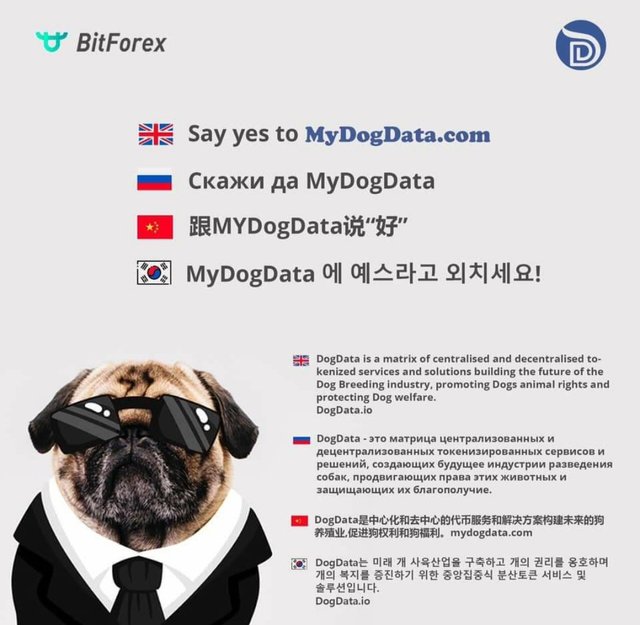 The applicability spread of blockchain technology seems to be increasing on daily basis as blockchain permeates different areas for both living and non-living. Just as humans deserves the best of welfare, our 'furry-friends' (dog) too deserve the needed care and welfare. This is what blockchain is poised towards achieving using the Dogdata project.
Dogdata is an innovation of concerted Solutions from dog experts, breeders, owners. Have you ever imagined a time when you will be incentivized for taking care of your dog? Do you know that it's highly possible for you as a dog breeder to easily get back your investments capital? This and many more alluring wishes are what Dogdata is all out to achieve.
ABOUT DOGDATA & HOW IT WORKS.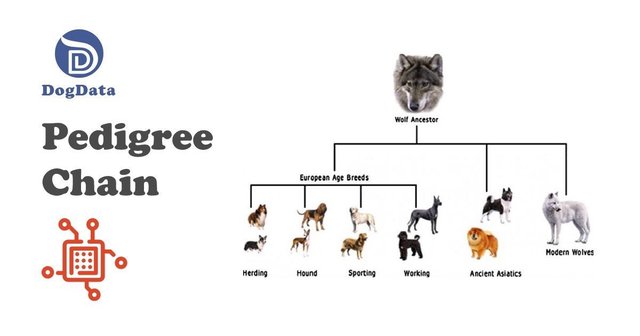 Dogdata platform is laced with a blend of web3.0, ERC-20, blockchain ledger, smart contracts and artificial intelligence (AI) features. It's a platform where true dog breeders and owners can seamlessly exchange authentic data about their dogs,with attached rewards ( incentives) to come with it. Dogdata is a conscious attempt to professionalize dog breeding globally using blockchain peculiarities.
Dogdata has established about four (4) different breeds to offer services ranging from dog purchasing, dog sell using smart contract, the smart contract is an ethereum based kind of Smart contracts that will ensure the process of data exchange is transparent,secured, fast and affordable.
Before now they have been situations where people just randomly cross- breed dogs without proper knowledge content on perfect dog breeding, in curbing this the Dogdata feature called DNA HUNTER will provide an authentic data banks for storage of different DNA owned by different dog breeds registered on the platform. The informations on the DNA HUNTER are accessible & always available for dog breeders.
Because everyone one cannot be professional at a time the DOG EXPERT feature on the Dogdata platform provides professional advice to novice dog breeders around the world, this ensures accuracy & consistency in information dissemination, this feature has been enhanced using a mobile application for different handheld devices, the application provides event notification and event management amongst the community of dog breeders, dog owners, experts and all other stakeholders within the platform. Dogs need medications too, they specifically need vaccinations to stay feet and clean, the Dogdata through it's PEDIGREE CHAIN feature will provide a leeway for everyone to know the type & time of vaccinations for dogs, veterinary doctor based services will also come on stream.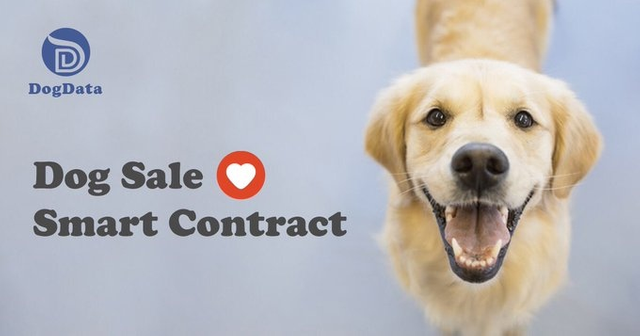 Above all, all bonafide participants within the platform will be entitled to earning ERC-20 & ERC721 token on ethereum. The platform utility token is called ETHBN ands it's solely a utility token for facilitating transactions and giving out rewards (earnings). When it comes to earning there are limitations or segregation, both private and commercial dog owners/breeders duly registered on the platform are entitled to earning.
CONCLUSION
Dogdata offers considerably a unique blend of Solutions, it's indeed a great relief for dog breeders, dog owners and dog welfare care givers, joining the Dogdata platform means you automatically have a global access, much thanks to the ubiquitous nature of blockchain technology.
LINKS
Website : https://dogdata.io/
Whitepaper : https://mydogdata.com/pdf/Whitepaper.pdf
Facebook : https://m.facebook.com/DogsData
Twitter : https://twitter.com/FaceBook4Dog
Telegram : https://t.me/Dogdata
Linkedin : https://www.linkedin.com/company/dogdata/
Medium : https://medium.com/@dogsdata
Reddit : https://www.reddit.com/user/DogsData/
Written by:
Bitcointalk Username : Ajprotocol
Bitcointalk Profile URL : https://bitcointalk.org/index.php?action=profile;u=2539305
Eth address: 0xCfdeb7c7dca24406B315b433A124ACE44ac2a0Ea