SPT Crowd-Sale Round & Weekly Data Report! (5/20)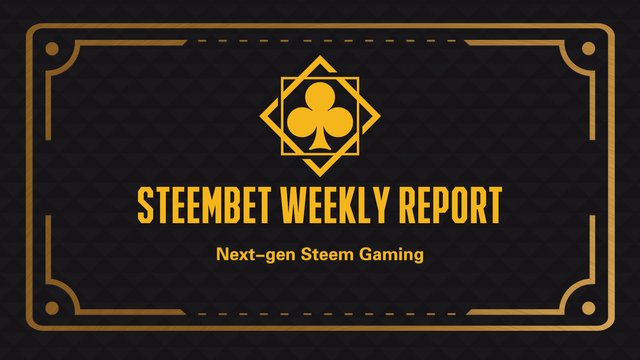 Dear Steemians,
Welcome to SteemBet Gaming Platform. In this SteemBet weekly report we will update our project development, stats of game and activities of community. We publish articles on a weekly basis so our users could always stay up-to-date.
SPT Crowd Round Sale
In the past week, we successfully started the SPT crowd round. In the process of this sale, the user participation was highly positive and the community responded enthusiastically. To this end, the SteemBet team would like to thank all of investors for supporting our players and investors. Any user can invest in SPT during this time period. Everyone investor are rewarded additional 20% bonus, and offers are available on a first-come-first-served basis while stock lasts.
SPT Token Sale Stages

SPT Token Sale Time line

Dividends Distribution Everyday
After completing the first round of dividends, SBT staking dividends will be adjusted to distribute daily. Users who have successfully staked the SBT obtained from mining to the platform will receive corresponding dividends every day. The current dividend system has been stably issued STEEM awards. thanks for your support. Because of new automatic dividend system we need to have a test. It will be launched in the next few days. Thank for your patience.


Community Development
The best community contributor in the last week.
User's ID:guurry tried his best to introduce SteemBet gaming platform and share our project update to his personal medium, FaceBook and Twitter. According to our community development reward, guurry will get more than 20,000 SBT reward.
Article:STEEM-BET TOKEN SALE IS GOING ON
https://steemit.com/steembet/@guurry123/steembet-token-sale-is-going-on-mwv0nyj2
How to join community activity and earn SBT?
Invite your friend to our Discord server and earn SBT
Starting today, we will reward 150 SBT for every friend you refer to our Discord server. Please contact admin after you have successfully referred a friend.
Discord link:https://discord.gg/95cBN3W
Write post to introduce SteemBet and earn SBT
We welcome everyone to write posts about SteemBet and share with your friends. You can open your mind and write everything according to your idea.
Original article & amount of resteems ≥ 10, reward 10,000SBT.
Original article & amount of resteems ≥ 20, reward 20,000SBT.
Original article & amount of resteems ≥ 30, reward 40,000SBT.
Original article & amount of resteems ≥ 40, reward 60,000SBT.
Original article & amount of resteems ≥ 50, reward 100,000SBT.
Original article & amount of resteems ≥ 120, reward 660,000SBT.
Share SteemBet on social media and earn SBT
Share our future posts on social media or Whatsapp/WeChat/Telegram/Discord groups, take a screenshot and leave a comment under any of our posts. Every share will be rewarded 500 SBT.
To see the amount of resteems of your post, you will need to install the Partiko app (most popular Steem mobile app) using this link: https://partiko.app/referral/steem-bet
Community Data
There are 2 main community groups in SteemBet, Discord and Telegram.
Member count of Discord group is:268
Discord link:https://discord.gg/95cBN3W
Member count of Telegram group is:45
Telegram link:https://t.me/steembet
Game Data
● Number of bets this week:7236
● Trading volume:12940.21 STEEM, 3,221 SBD
● Total Number of Users:1405
SteemBet Official Website
SteemBet Official Discord server
SteemBet Official Telegram Group