SPT Crowd-Sale Round & Weekly Data Report! (5/13)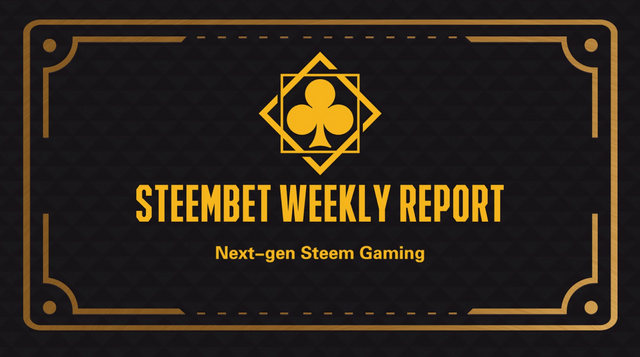 Dear Steemians,
Welcome to SteemBet Gaming Platform. In this SteemBet weekly report we will update our project development, stats of game and activities of community. We publish articles on a weekly basis so our users could always stay up-to-date.
1. SPT Dividend on 14th May and Crowd sale is about to start on 18th May.
In the past week, we successfully completed the SPT pre-sale round. In the process of this sale, the user participation was highly positive and the community responded enthusiastically. To this end, the SteemBet team would like to thank all of investors for supporting our players and investors. According to the plan, we will carry out the second round of SPT equity dividend on May 14th, and will launch the crowd round SPT sales on May 18th. Any user can invest in SPT during this time period. Everyone investor are rewarded additional 20% bonus, and offers are available on a first-come-first-served basis while stock lasts.
Start Time: May 18rd 16:00
SPT Amount: 32,000,000
Ratio: 50 SPT : 1 STEEM
Bonus: 20%-0 extra SPT
SPT Token Sale Stages

1.1 SPT Dividends Distribution On 14st May


As far as you are concerned, after each round of SPT is released, we will distribute the rights of the platform originally belonging to SPT in dividends. After the seed round sale, we have carried out the first round of SPT dividends. A total of 3935.29 STEEM are allocated to SPT holders in proportion. At the same time, after the end of the pre-sale round, we will carry out the second SPT holder dividend on May 14th. As of now, the pool of the second round of dividends has accumulated more than 3935 STEEM, setting a record high. And such a rich STEEM pool, we will be divided into the proportion of SPT holdings to the majority of investors. We look forward to your arrival and become a part of us.
2. Earn SPT NOW
People have been asking about the question whether they could earn SPT with a little work. So, the answer is YES! In addition to purchasing SPT directly, we are announcing two new fun ways for contributors to earn SPT. They are:
2.1 Affiliate Program
The first incentive is Affiliate Program through which you could refer a friend and get SPT reward for both of you. In order for you to easily lookup, we have broken down tiers and rewards in below table. The great thing about it is that we are tracking your friend's investment in real time so reward token will be given to both of you immediately when investment is confirmed.



Note:
Invest Amount means STEEM or its equivalent you need to invest in order to start receiving referral reward.
During investment, you friend needs to fill in your Steem account as referrer on Steem-bet website.
Referral bonus will be given to both you and your friend immediately after his/her investment is confirmed.
2.2 5 x 1000 SPT Daily Reward has Finished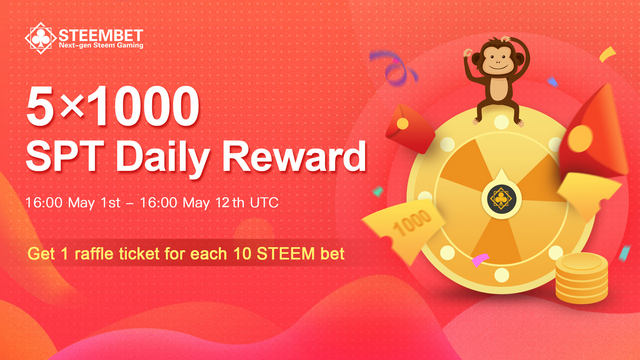 In the past 12 days, 60 tickets have been selected as lucky players, and we have sent 60,000 SPT as reward. After the end of the activity time node every day, we will filter the eligible player accounts by random lottery and send out SPT rewards. After each settlement, we will also announce the event winners and tickets number in our community. The whole process is open and transparent.
3. First Round SBT Dividends Distribution has Finished
On May 12th, the total number of SBT mines reached 100%, and a total of 30,000,000 SBT were mined. According to the SBT mining dividend rules, we successfully completed the first round of SBT dividends on May 12th, and 5,200 STEEM were distributed to the majority of players in proportion to SBT stake. After completing the first round of dividends, SBT staking dividends will be adjusted to distribute daily. Users who have successfully staked the SBT obtained from mining to the platform will receive corresponding dividends every day. The current dividend system has been stably issued STEEM awards. thanks for your support.


Community Development
Invite your friend to our Discord server and earn SBT
Starting today, we will reward 150 SBT for every friend you refer to our Discord server. Please contact admin after you have successfully referred a friend.
Discord link:https://discord.gg/95cBN3W
Write post to introduce SteemBet and earn SBT
We welcome everyone to write posts about SteemBet and share with your friends. You can open your mind and write everything according to your idea.
Original article & amount of resteems ≥ 10, reward 10,000SBT.
Original article & amount of resteems ≥ 20, reward 20,000SBT.
Original article & amount of resteems ≥ 30, reward 40,000SBT.
Original article & amount of resteems ≥ 40, reward 60,000SBT.
Original article & amount of resteems ≥ 50, reward 100,000SBT.
Original article & amount of resteems ≥ 120, reward 660,000SBT.
Share SteemBet on social media and earn SBT
Share our future posts on social media or Whatsapp/WeChat/Telegram/Discord groups, take a screenshot and leave a comment under any of our posts. Every share will be rewarded 500 SBT.
To see the amount of resteems of your post, you will need to install the Partiko app (most popular Steem mobile app) using this link: https://partiko.app/referral/steem-bet
Community Data
There are 2 main community groups in SteemBet, Discord and Telegram.
Member count of Discord group is:263
Discord link:https://discord.gg/95cBN3W
Member count of Telegram group is:42
Telegram link:https://t.me/steembet
Game Data
● Number of bets this week:25090
● Trading volume:190,212 STEEM, 3,221 SBD
● Total Number of Users:1392
SteemBet Official Website
SteemBet Official Discord server
SteemBet Official Telegram Group