(Seed Round SPT Sale Report)SteemBet Weekly Report(4/22)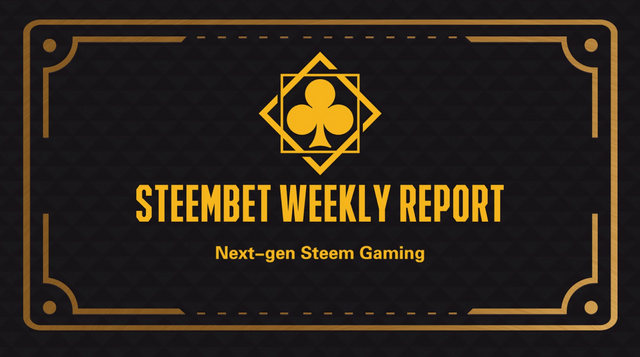 Welcome to join SteemBet, the next-generation Steem-based gaming platform. In this SteemBet weekly report we will update our project development, data of game and status of community. We will publish the report every weekend so that you can know the state of SteemBet and the latest updates.
SteemBet Platform Token(SPT) Seed Round Sale
The seed round of SteemBet platform token SPT starts at 16:00 22nd April, UTC time. The investors who registered participant count are more than 53. Because of Easter vacation, We will extend our seed sale period to from 16:00 22nd April to 16:00 27th April, UTC Time. The amount of seed round SPT is 4,000,000.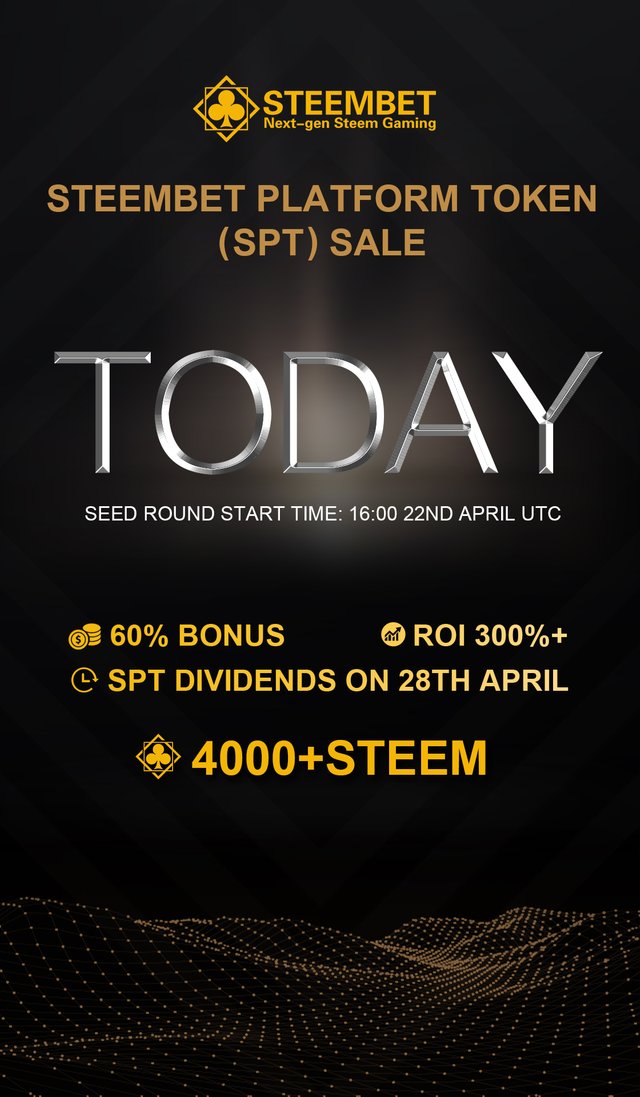 Meanwhile, the SPT investors will receive 60% bonus in this round. And the SPT holders are able to distribute the first round dividends on 28th April. SPT is SteemBet platform token(SteemBet Equity). So the dividends of 28th April is platform equity dividends. It's different from SBT game token. There are different dividend pools in SteemBet.



SPT Token Sale Timeline



SPT Token Sale Stages
SBT Dividends Adjustment
According to our fellow Steemians feedback, we haved burned SBT tokens from a few verified bot accounts and adjusted the trigger of the next dividends to 30,000,000 SBT. What this means to you is that your current SBT stake will not be diluted by huge amount of stake last minute, and the first dividend will happen much sooner. Hoorey!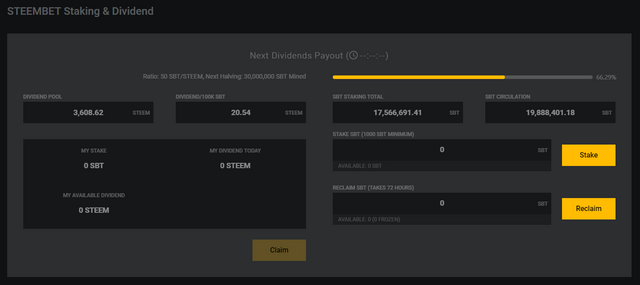 Before adjustment, trigger of dividends was 220,000,000 SBT and now reduced by 86% to 30,000,000 SBT. The total amount of SBT destroyed in circulation (unstaked and a little staked) is 24,086,380 SBT, and post-adjustment SBT circulation is now 19,888,401.18 SBT.
The new SBT staking total is 17,566,691.41 SBT, more than 66.29% in progress toward the first dividend.
After Adjustment SBT Data:
SBT Circulation:19,888,401.18 SBT
SBT Staking Total:17,566,691.41 SBT
Ddividens Pool:3,608.53 STEEM
DIVIDEND/100K SBT:20.54 STEEM
Next Dividends Amount of SBT:30,000,000 SBT
The Rati of Mined:66.29%
Community Development
If you have finished the mission, please join in our discord group and contact with administrator for reward.
Discord link:https://discord.gg/95cBN3W
Invite your friend to our Discord server and earn SBT
Starting today, we will reward 150 SBT for every friend you refer to our Discord server. Please contact admin Steven J after you have successfully referred a friend.
Discord link:https://discord.gg/95cBN3W
Share SteemBet on social media and earn SBT
Share our future posts on social media or Whatsapp/WeChat/Telegram/Discord groups, take a screenshot and leave a comment under any of our posts. Every share will be rewarded 500 SBT.
Development Updates
Backend
Added Description of Countdown finished.
Fixed the link between complete guide page and SteemBet
Added the whitepaper link to website topbar.
Community Data
There are 2 main community groups in SteemBet, Discord and Telegram.
Member count of Discord group is:247
Discord link:https://discord.gg/95cBN3W
Member count of Telegram group is:36
Telegram link:https://t.me/steembet
Game Data
● Number of bets this week:1199
● Daily average trading volume:281231.86 STEEM, 117.368 SBD
● Number of active users:737
● New users:179
Upcoming Change
Based on users back we decide to support Steem Connect.
Roulette game is being extensively tested and will launch very soon. We apologize for the delay.
SteemBet Official Website
SteemBet Official Discord server
SteemBet Official Telegram Group