Hello All Steemers!
Today I am selling my 3 Epic Cards for Steem Monsters game.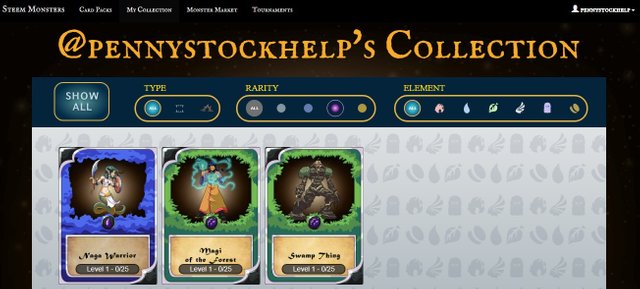 Namely: Naga Warrior, Magi of the Forest, Swamp Thing
If you want to buy all then you have to bid with minimum 2.5 Steem and if you don't want to wait and want to buy immediately then you can do that for 6 Steem.
So the prices are as above :-
IF you want to buy only one card then the starting price for that is 1 Steem.
If you want to buy All 3 Cards then the bid must be 2.5 Steem and above.
If you wants to buy immediately all cards then Fix price is 6 Steem.
So i am going to start the auction with the bid of 1 Steem for each card and then you can submit your Bids by typing "bid xx" (xx is your amount of bid that you wants to put.) And when you place a bid for buying 1 Specific card then you have to mention that with your bid.
Auction is going to end after 48 hrs. From the posting time of this auction.
Thanks to @steembay for providing this service.