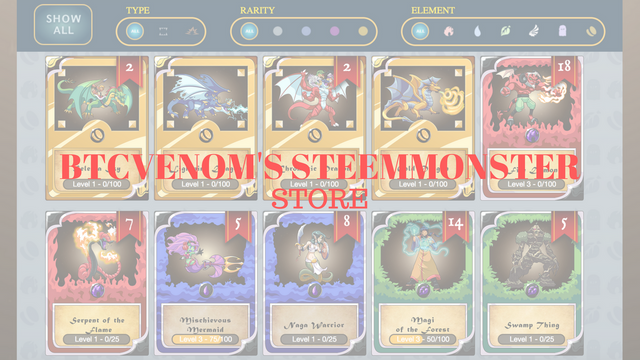 Auctioning off my entire @steemmonsters collection which includes the following cards
RARES
——————
Serpentine Soldier x54
Pit Ogre x23
Cerberus x38
Medusa x41
Water Elemental x31 .
Frozen Soldier x41
Earth Elemental x52
Stone Golem x63
Stonesplitter Orc x39
Peacebringer x21
Silvershield Paladin x36
Clay Golem x29
Haunted Spirit x52
Twisted Jester x40
Undead Priest x45
Legendary's
Elemental Phoenix x2
Angel Of Light x2
Lord Of Darkness x3
Chromatic Dragon x1
Foil/Gold's
Selenia Sky (1 of 5 in existence!!)



Auction Details
I'm using @steembay to run this auction.
(You can read the full @steembay tutorial HERE)
Starting bid Price: 500 SBD
Buy It Now Price: 1000 SBD

How To Place Your Bid:

Reply (directly) to the post with "bid x"
Example bid:
bid 501.0
Wait for the bot to log in the bid.
You will get a reply when you are overbid.


Bids will be accepted until next 72 Hours.
The cards will be transferred to the highest bidder after payment has been received.
If somebody offers the 'Buy it now' price, the auction will be closed before the end date.