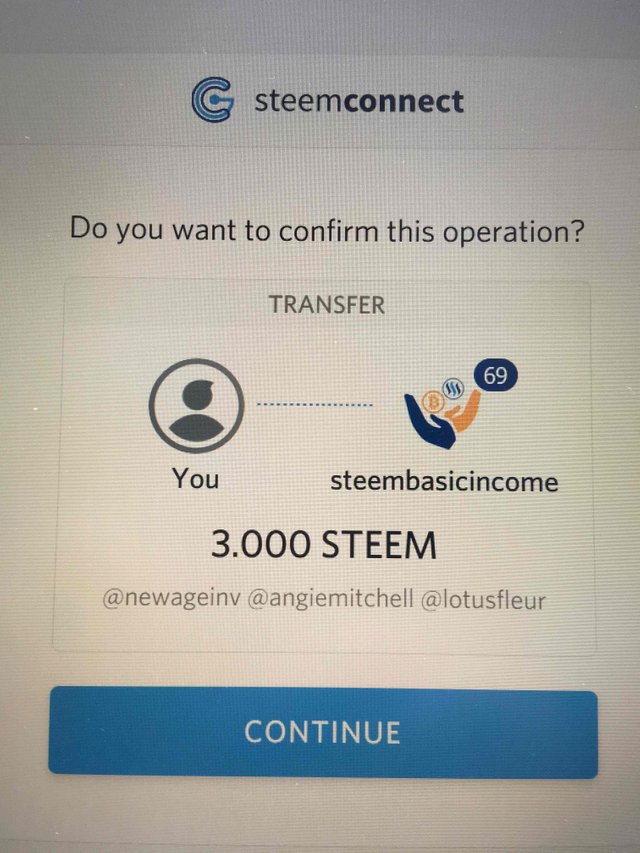 If you don't already know by now, I'm a big advocate for sponsoring users into the @steembasicincome program. I've sponsored a number of newbies into the program, and have sent a total of close to 250 STEEM to @steembasicincome to help bring basic universal income to as many steemians as possible. My latest giveaway consisted of just 3 STEEM to SBI, but 3 is better than none, right?
I want to help support those who go above and beyond toward helping me. For this reason, I recently sent 1 STEEM to @steembasicincome for the following users:
@newageinv
@angiemitchell
@lotusfleur
NAI is literally all over the place, commenting and engaging with users across the platform. His dedication outside from the real world to the platform is quite inspiring. Everyday, he reads, comments, and provides value to users and the platform as a whole. He even posts articles about attempting to find new users to help support with his nice chunk of SP. This is a thank you to @newageinv for the continual support to not only myself, but the ecosystem as a whole.
@angiemitchell is another wonderful steemian. She always comes by to read and comment on my posts, and it's users like this that keep me going around here. I cannot tell you how much your unwavering support means, and I can tell you that it certainly does not go unnoticed. I wanted to thank you with a SBI share for your hard work and dedication to helping users like myself achieve their goals.
Last but not least is a relatively new face, @lotusfleur. Lotus found my page through the #yoga tag, and connected with me instantaneously upon reaching my blog. Connecting with like minded individuals with similar interests is a great way to organically build your page. I want to thank @lotusfleur for reaching out and supporting me on my steemit endeavors. I hope my content continues to inspire and build the fire up inside for more people to partake in such a mind-body-soul practice. I will be seeing you around, my friend.
Thank you to those that continually support me on my steemit journey! I'm off to becoming a dolphin of my own 🐬
Posted using Partiko iOS