Steemitri The Mannequin's STEEM 2020 skydiving mission
Dear Steemians!
Today I was scrolling through my feed and I came across @pennsif's post:
Steem2020 contest update - 1500 STEEM prize pool & judges announced
https://steemit.com/steem2020/@pennsif/steem2020-contest-update-1500-steem-prize-pool-and-judges-announced
Here is an excerpt from the post:
Here is your chance to put pen to paper, finger to keyboard or face to camera and tell everyone what should happen on the Steem platform next year, and most importantly how you will play your part to make it happen.
In these 30 months on STEEM I did a lot of strange things and of course I don't want to stop here. I have a list of ideas that continues to grow, but it is not easy to put everything into practice.
There is one thing that has been going around in my head for months:
SKYDIVING!


OH Yes! Steemitri The Mannequin jumping off a plane with a parachute!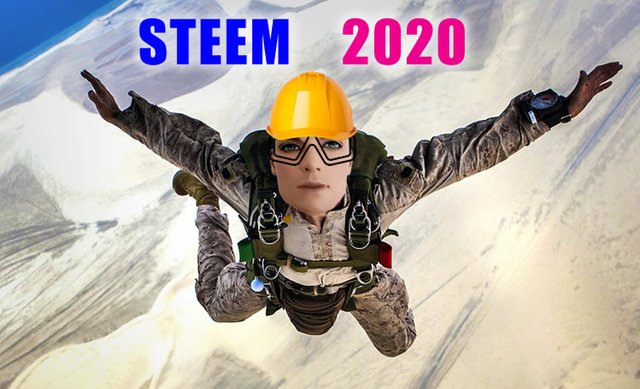 Photo editing by @steemitri - background photo source: PIXABAY
Now you wonder, how come skydiving ???
As you may know, I was the first mannequin to launch an online blog ... and I'm probably the only one. I'd like to do something extraordinary, something that only a few mannequins have attempted to do.
Here is the jump of a dear friend of mine!

But I prefer not to jump off alone, also because I have little mobility in my fingers and I wouldn't be able to open a parachute! I would not have a nice ending… smashed onto the ground and in pieces... better not!
What does STEEM gain with this jump?
This challenge will be documented with a video.
I will try to hire a talented professional movie maker from my region to create a perfect and impressive work ...It has to be a high quality video!
The subject will not only be Steemitri The Mannequin, but also the STEEM blockchain.
I want this video to spread around the world ... and to succeed in this, it takes a bit of madness!
Unfortunately in Switzerland where I live, a challenge of this kind seems to be illegal ... and the same goes for neighboring Italy. I will contact a couple of parachuting centers again to find out more.
I would like to promote STEEM and get exposure in a unique and crazy way!
What do you think?
Feasible or just crazy shit?


Leave your opinion in the comments ;-)


Have a great day!
Steemitri The Mannequin
@steemitri