dMania to the moon? +1000% growth in January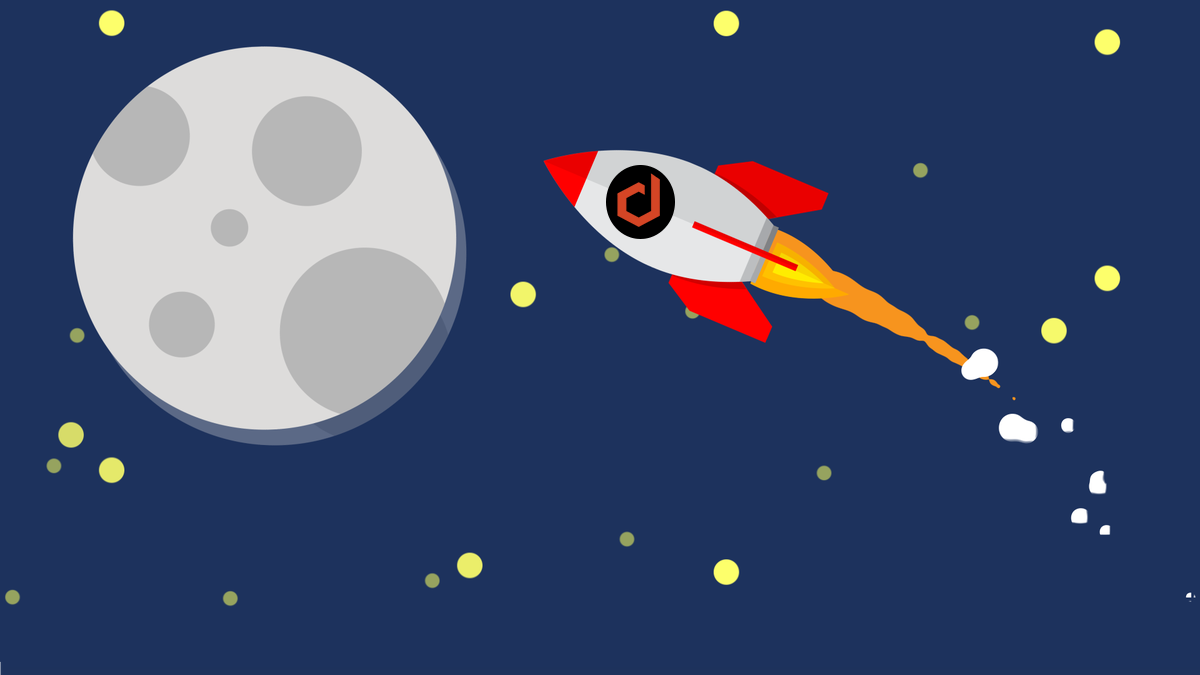 January was a good month for dMania. More than 1000% growth in unique visitors per day in the last month. The increase in the price of Steem and the delegation from Steemit helped a lot, but that's not the only reason. I did some social media marketing and a lot of users shared their memes at the last dMania promotion. I also did some search engine optimization to get more users to dMania.


What is dMania?
dMania is an app on the Steem blockchain like Steemit. You can post memes, funny pictures and videos on dMania. Give it a try -> https://dmania.lol 
I want to share some statistics with you from Google Analytics.
Unique visitors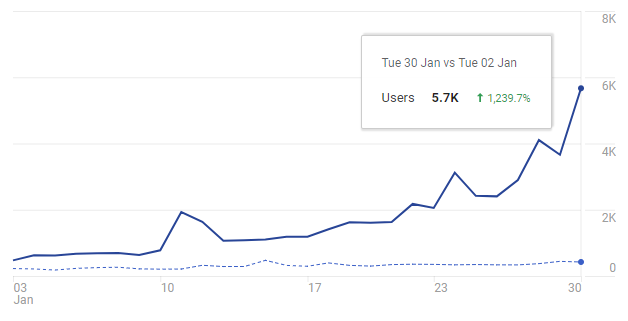 5.7k unique visitors on 30.01.2018, a 1239% increase compared to last month. Not that bad 😎. If dMania keeps those numbers up, then I see a bright future for dMania.
Sign ups via dMania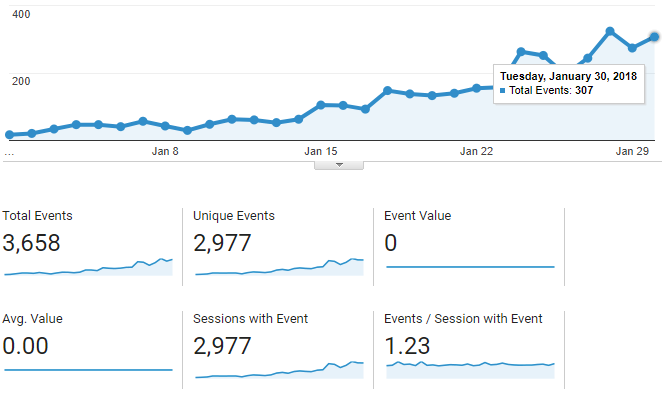 I am tracking the redirects to the Steemit sign up every time a user clicks on sign up on dMania. 3658 signed up via dMania in January. In the last few days over 300 people signed up every day.
I can't track the actual account creations that happend, but I think they are very close to those numbers.
User acquisition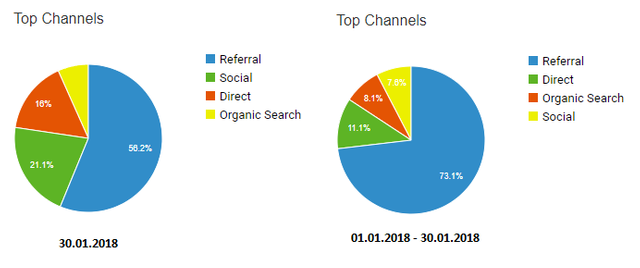 Most users are still coming via referral from Steemit. On 30.01.2018 almost half of all users didn't visit dMania via Steemit. That change is very significant. dMania can only be successful and outgrow Steemit if it has it's own user base and user acquisition.
dMania to the moon?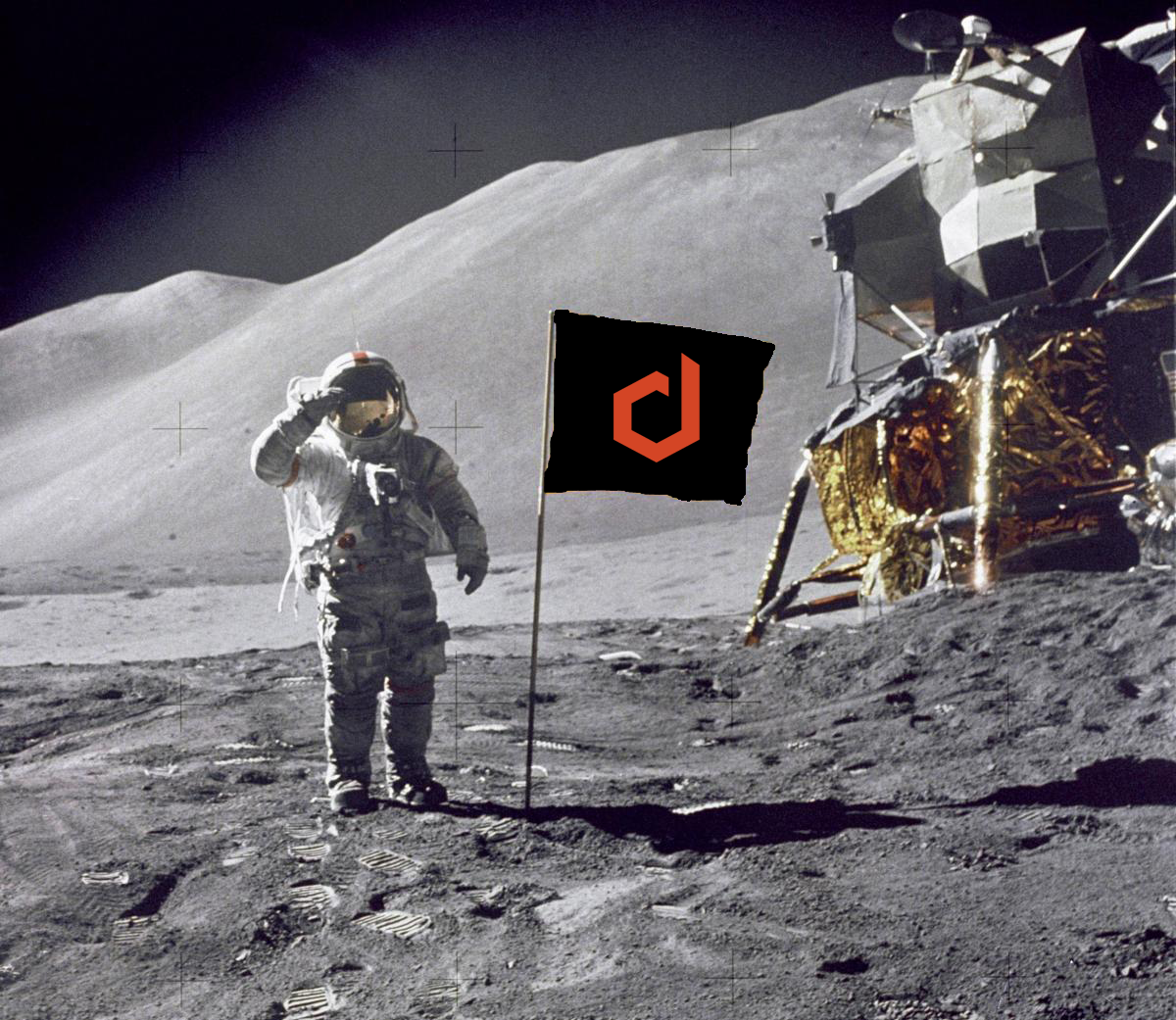 Not yet 😅. That start of 2018 looks very promising though, but I am not sure if dMania can keep up this kind of growth. It's a lot easier to grow when you are still small. We will see what 2018 brings. Thanks for everyone who is supporting and promoting dMania.
Support dMania
dMania supporters receive 15% of the rewards on dMania. The dMania bot uses the collected Steem Power from supporters to upvote posts on dMania. To become a dMania supporter, you have to delegate some Steem Power to dMania. The minimum is only 5 Steem Power. The more Steem Power you delegate, the higher your rewards. By delegating Steem Power, you are lending your Steem Power to dMania. The Steem Power still belongs to you.

Supporters
There are already over 150 dMania supporters.
@misterdelegation
@lafona-miner
@xeldal
@snubbermike
@cnts
@zombee
@inertia
@elgeko
@mat1973
@raggaemuffin
@whalepunk
@northeast
@whalepunk
@flipstar
@rocketsteem
@thepholosopher
@free999enigma
@scandinavianlife
@gktown
@carterx7
@celestal
... and many more
If you have any questions join our Discord server

Please upvote, post and comment on dMania to support this project. Every single upvote counts. You can contact me on steemit.chat or discord if you find any bugs or if you have ideas for new features. Please resteem and upvote this post and tell everyone you know who likes memes about dMania. Follow @dmania and @zombee to get the latest updates about this project.