China has been notorious to put a ban on all ICO projects, closing down all crypto-currency exchanges, blocking all websites dealing with cryptocurrency trading and cracking down on miners in its territory. Whether it was BTC or ETH, everything came under that ban.
Surprisingly, China has now become the first country in the world to start publishing ranking of crptocurrencies on a monthly basis. China Center for Information Industry Development (CCID) under China's Ministry of Industry & Information Technology has launched a monthly rating index for 28 cryptos and blockchains. In its first published table, it has ranked Steem at No. 2 and Bitshares at No. 12 (above Bitcoin):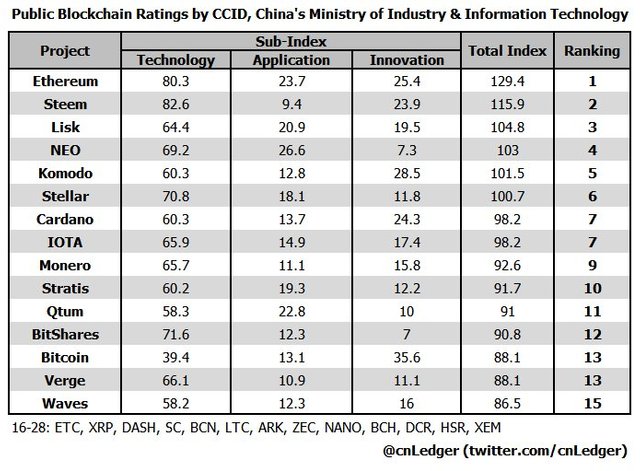 Link to original Tweet
It was a pleasant surprise to see STEEM with a score of 115.9 ranked at No. 2 just below Ethereum. The Index is based on 3 major aspects; technology, its application and innovation. Steem is the top currency according to the technology but it has performed poorly on application front.
IMHO, if SMTs had been launched well in time, the "application" part may have scored some more points and may have put Steem at numero uno position. Steem need to catch up fast and come up with SMTs, Velocity and AppBase at the earliest. We have another chance to show up next month 😉. Although these charts don't have much credibility in the crypto trading or investing circle, many people get influenced by looking at such charts and these would at least put the spot light on the Steem.
Do you believe Steem is as valuable as to justify its No.2 position?
Where do you rank Steem by next quarter?