Justin Sun was Only Warned About Token Freeze After Buying Steemit inc Afterall?
Here's an update that was just forwarded to me by someone on Twitter, following a thread by @jesta there. This was in response to my previous post that included audio from Eli the Steemit MD in which she said that she warned TRON in advance that the Steemit tokens might be frozen by the STEEM witnesses. The claim here is that this warning took place after TRON had bought the tokens, but before Justin had informed the exchanges that the tokens were frozen by 'hackers'.
Honestly, this is getting tiring and it would be very helpful if the full truth of all of this would just be made public so that we can truly move forward in peace.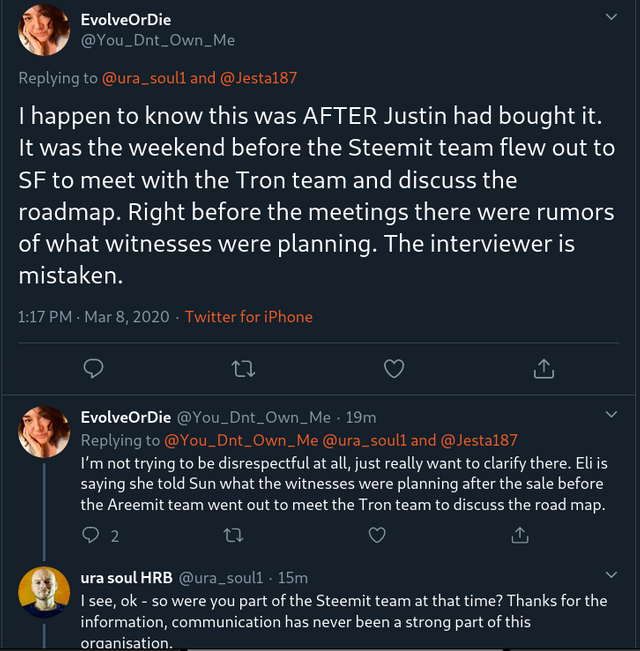 source: https://twitter.com/You_Dnt_Own_Me/status/1236642084444090370
I have always said that the situation Eli described was not 100% clear and I have no desire to mislead anyone here. I am just doing the best I can to share information based on what is available, given the limited communication on offer from those involved.
If this version of events is accurate then it means that Justin may genuinely not have known in advance that the tokens had been publicly stated previously to be intended for community use and that the responsibility for deception falls more on @ned and perhaps others at Steemit inc. than it does on Justin. However, Justin still bares responsibility for ignoring the voice of the community and misleading the exchanges involved. All that said, if he had really done due diligence into the topic he would have known the situation with the tokens - the information was not hard to find prior to him purchasing Steemit inc.
Wishing you well,
Ura Soul
---
---
---
---
Proud member of @tribesteemup.