WE SHOULD/MUST VOTE people as @mahdiyari as a Steem Witness
Guys!
Are you using Steemauto ?
Are you understanding how dependant we are of one of the best tools currently in steem blockchain?
I am really grateful and indebted with the service provided by @mahdiyari an his app. Steemauto .
Personally I am using it mainly in the @runningproject initiative which has around 70 fellow runners posting daily about running and other healthy topics deserved to be curated and upvoted.
This initiative started using an upvoting little program placed in my computer...soon I realized how difficult was to maintain the program running in a 24h working shift so I decided first to migrate the @runningproject enrolled curation list to steemvoter which charge me with a monthly fee, tiny as well I have to say...
Then I discovered Steemauto, a free of charge service providing the same and even more services, so, I didn't think twice and I moved the curation list there. Soon I understood that @mahdiyari deserved to be voted as a witness and so I did.
From time to time, the Steem nodes and other steem implementations and upgrades are not putting the things easy to the apps working on top of the Steem blockchain.
It happened a few times during the last three months and so Steemauto and mainly all the other apps have struggled for some time.
Currently is happening again, but what I can tell you is that @mahdiyari is working hard, FOR FREE, every time it occurs, fixing the issue within hours and planning for an upgrade/improve which prevent the occurrence in the future...
... You can imagine the amount of work that this fellow steemian is doing!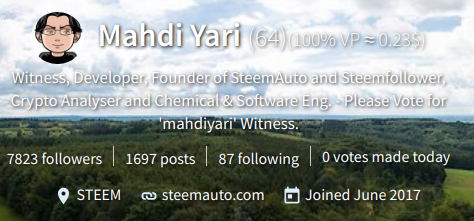 According to what I learned at the steemauto Discord server (https://discord.gg/nBa3uv) steemauto has:
~33,000 users
~160,000 fanbase followers
~40,000 trail followers
##... and @mahdiyari is located at the number 81 of the Witness list!!!!

I strongly suggest you to go to this and vote for @mahdiyari as one of your witness!

But...are we crazy?
HE DESERVES TO BE IN A MUCH BETTER POSITION!
Because, we have to vote people who deserves to be voted...