Not always is easy for me to give bad news, since I am positive by nature but, I think it is just fair if I am sharing my feelings regarding what I can see now in the 1H-STEEM Chart: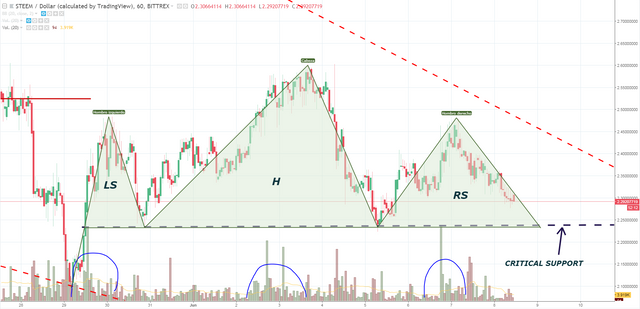 It seems that a HEAD&SHOULDER Pattern is being completed right now. The three parts with sudden increase in volume.
The NECKLINE is at the level of 2.24 USD. If STEEM crosses that Support line it will fall deeper...
If it happens, the STEEM target level would be around 1.85 USD.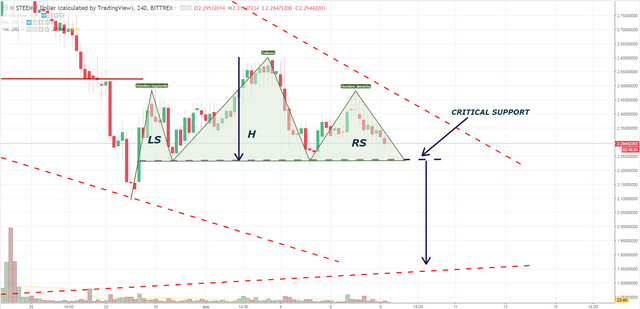 NEVERTHELESS, This is a good trading settlement:
If you keep some STEEM at the exchanges, the crossing through the 2.24USD becomes a good entry point for trading SHORT with STEEM. How?
Sell your STEEM when breakage down is done, so Pattern is triggered.
Wait till STEEM rebounds on the Long Term support, and so buy again. Around 17% profit is in play.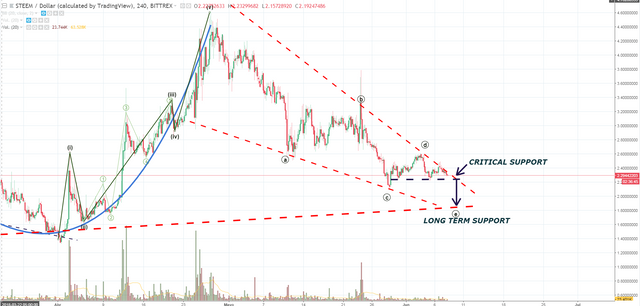 I hope the Head&Shoulder pattern will not be triggered but remember that if it happens it just mean another great chance for success!!!!
---
Steem on!
---
*Disclaimer: This is just my personal point of view, please, do your own assessment and act consequently.
Neither this post nor myself is responsible of any of your profit/losses obtained as a result of this information.