STEEM is currently in second place in the poll to be added to the (large) BTCC Chinese exchange. We need to be in first. Getting listed on this exchange will allow all of the BTCC exchange users to purchase STEEM. More people buying STEEM = good.
It is very simple. Just go to this poll, and vote for STEEM. Do it right now. Please.
https://twitter.com/bobbyclee/status/865851769116475392
If you don't have a twitter account, please register so you can vote in the poll. You never have to use it again if you don't want to, just sign up so you can vote.
https://www.twitter.com/
Have you created twitter accounts for any of your pets? Do you have a fake account that you use for drunken tweets? All of these accounts can vote. Log in with all of them and vote for STEEM.
We have made it in to the final round, and just need to overtake ETC (Ethereum Classic) to win. We are so close! 2nd place won't do it though - we need 1st place to win.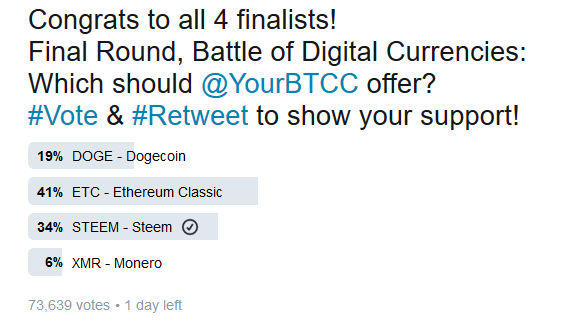 Everyone please do the following:
(1) Go to the poll and vote for STEEM.
(2) Repeat #1 with any/all twitter accounts that you have access to.
(3) If you have any friends or relatives who can vote, get them to vote too.
(4) Resteem this post so more people can see (declined payout).
Have you voted yet? DO IT NOW!