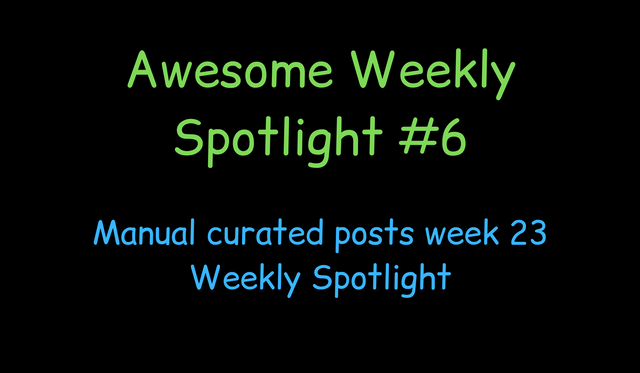 This Is Awesome
Welcome to Weekly Spotlight #6, and it will feature the awesome curated posts of the past week.
Awesome Weekly Spotlight Week 23
So let's start, and they will be presented in the order that they where upvoted and resteemed.
This is the @actifit report from @jeanlucsr, and he is including his daughter in his activities, just awesome.
This video was made by @mickvir and goes into the value of engaging with the Steem community, it's awesome check it out.
This is the #seven77 video from @runridefly and it really shows his dedication to this movement, check it out it's awesome.
This video was made by @cryptospa and features his overview of the cryptocurrency market, he makes one almost every day and you can really learn a lot about what is going on and how it works by following his videos.
In this video he talks about @coingecko which have a lot of analytics tools for this market and they are present here on Steem, and also some news about Bitcoin and the Lightning Network, plus some news about the upcoming cryptocurrency from Facebook, check it out it's awesome.
This video was made by @devkant79 and he makes a beautiful comparison of the Steem blockchain to his own apple orchard, it's awesome check it out.
This is the @actifit report from @roger5120 and she talks about her very active day, and includes some really beautiful pictures, check it out it's awesome.
This video is the @cleanplanet report from @toufiqurrahman32 and he is working very hard to clean up his part of our beautiful planet, it's awesome check it out.
Thank You!
So these where the curated posts and videos this week, and as I have said before, I upvote and resteem 1 post per day, to give each post both the full 100% upvote and to only have 1 spotlight per day, so the posts do not have to compete for attention.
It is my hope that this gives great value back to the Steem community, and I thank you all for reading and supporting this effort, this account was created by @flaxz to give attention to awesome content and help the Steem community grow.
Have an awesome week ahead.
Awesome Units
This is a new feature, and you can now earn Awesome Units by delegating 50 SP or more, and you will earn your Awesome Units for each full week from Sunday to Sunday that you have delegated 50 SP or more, and that will give you 1 Awesome Unit per full week of delegation.
These units will then be redeemed to SBI Units using the funds coming in to this account, and only 1 unit can be redeemed per week for each one holding a unit, and should there be more Awesome Units than there are funds then a waitlist will be implemented to make things fair and sustainable.
Also @flaxz is excluded from earning Awesome Units, since he is the owner of this account.
Here is this weeks list of Awesome Units.
@cryptospa have earned 1 Awesome Unit for his delegation of 51 SP for one full week, and it has been redeemed to 1 SBI Unit as can be seen in the Steemitwallet.
Congratulations!
Sincerely,
This Is Awesome