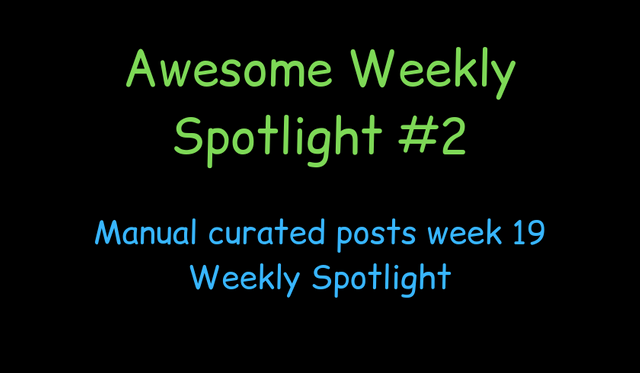 This Is Awesome
So this is my second weekly spotlight and it will feature the curated posts of the past week.
Awesome Weekly Spotlight #2
So let's start, and they will be presented in the order that they where upvoted and resteemed.
This post was published by @devkant79 and he speaks about the different experiences that we face in our lives and how one should best deal with them, it shows much wisdom and maturity and it is awesome.
This video was published by @cryptospa where he announced a token sale by @freedomex and application @dlike, plus he made an overview of the cryptocurrency market, and he have much insight in that market, it's awesome.
This is an article by @maxdevalue where he makes his post for the Steem Bounty Program with Snax, and he explains it in a very easy way, awesome.
This article was created by @crazy-facts who explains the mission of BepiColombo, which will explore the planet of Mercury and it's fascinating to read and written in a way that makes it easy to understand, check it out it's awesome.
This is a video by @clixmoney and it's made to promote SteemMonsters (Splinterlands), a game on Steem that is really well made, spreading Steem is always awesome.
This is the @actifit report from @practicaleric and he makes a very motivating post with beautiful pictures, check it out it's awesome.
This is the @actifit report from @mickvir celebrating Mothers Day with his wife and kids, it's just awesome and heartwarming.
Thank You!
So these where the curated posts and videos this week, and as I have said before, I upvote and resteem 1 post per day, to give each post both the full 100% upvote and to only have 1 spotlight per day, so the posts do not have to compete for attention.
It is my hope that this gives great value back to the Steem community, and I thank you all for reading and supporting this effort, this account was created by @flaxz to give attention to awesome content and help the Steem community grow.
Have an awesome week ahead.
Sincerely,
This Is Awesome