Anyone who is interested in steem gambling.

I'm planning on opening a casino and I'm currently looking for partners and also potential users who would be interested. So ill be running a poll on twitter and would like this to be taken very seriously.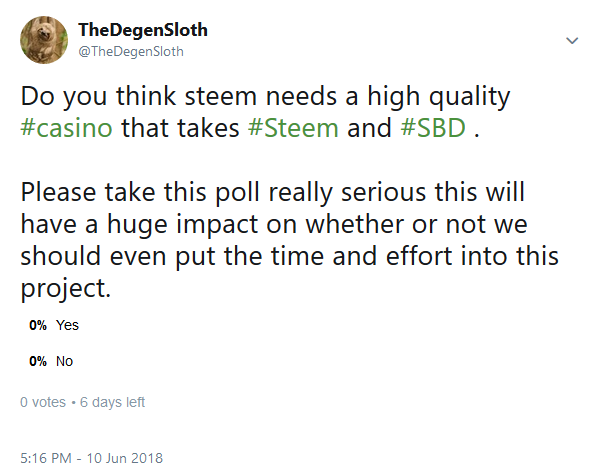 https://twitter.com/TheDegenSloth/status/1005966891645468672
---
Who is thedegensloth?
Those who don't know who i am, well im the Ceo of Zappl inc, lead Developer of paywithsteem.com and on the pay roll of 5 other NDA pojects that are steem based projects. I'm a huge believer in the steem eco system and have been working with partnering with exchanges, as well as small banks to try to score us more fiat pairs. Because of the lack of innovation in our blockchain or should i say the time it is taking to release v.20 which when i first started talking to them about was 6 months ago many have lost interest. But the grind continues.
---
My next goal!
My next project will be a casino for the steem blockchain, sadly with how things are now it's impossible to make a decentralized casino or any true dapp until smart contract support is started. So this will be a very secure casino that is steem friendly, which will also be public investment friendly as well. People can and will be able to invest in certain games instead of plain just investing in them all.
This casino will include slots, sports betting, and poker. With more options coming a quarter or two after launch. If I'm going to launch this project i would like for everyone to vote seriously and leave your thoughts below.
You can follow me and contact me on twitter or discord:
https://twitter.com/TheDegenSloth