Offer to Purchase Steemit.com for Custody of the Steem Community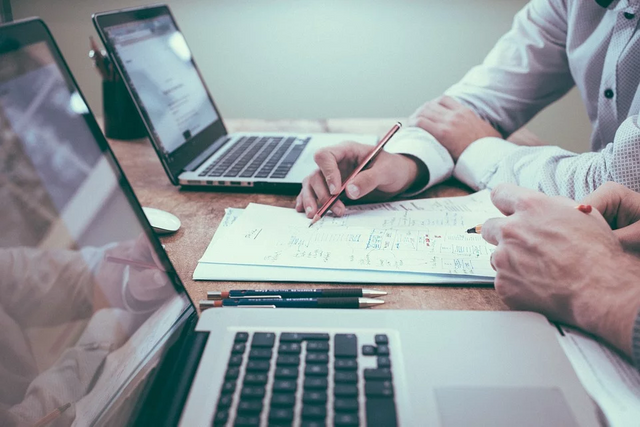 ---
FIRST DRAFT PROPOSAL
---
To Tron
Att: Justin Sun
The Steem project should have never been launched under the guise of immutability, freedom and liberty while a corporate entity owned and controlled the main dapp and marketing, this is not representative of the ideals of decentralisation and Open Source.
Steem will never prosper while its flagship domain is under corporate control and whoever owns it will always be cursed to be at loggerheads with the community.
Steemit.com is a piece of genesis history of the Steem blockchain and should be preserved as such. I hereby propose to emancipate the steemit.com app to the ownership of a community trust such as a Bermuda Charitable or Purpose Trust, with strict instructions in the deed that this domain should never be sold to individual or corporate control but rather forever remain in the ownership of a community trust.
The trust shall be to the benefit of the Steem community and the development of the steemit.com app and other worthy social initiatives.
I hereby tender to you a rounded up purchase offer of 1.4 Million USD for the below-listed domains (valued by Hypestat.com) and to include all public communication accounts previously owned by Steemit inc, such as but not limited to, steemitblog, steemitmarketing, Steemit Twitter, Reddit and Facebook accounts, along with the necessary github repos for all UI's and webpages.
At this stage we will sort our own infra and likely will not need anything else other than the domains and social media and Steem accounts empty of any Steem or Steem Power funds. Infrastructure transfer could be discussed if it is to the benefit of both parties, but that discussion can come later.
---
List of Domains and Valuation
---
steemit.com $1 163 982.84
steem.com $ 7 245.24
steem.io $ 8 086.31
steemitwallet.com $ 157 173.21
-------------
Total: $1 336 487.60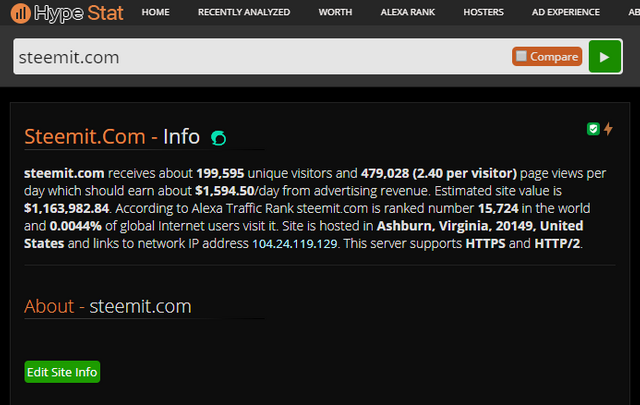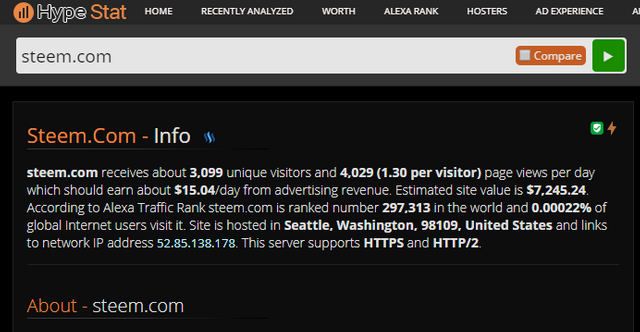 The steem.com domain is a good place to start as this domain is useful as an information site under community ownership and could be funded for purchase fairly quickly.
Should you accept this offer by replying to this post, you will give the Steem community 90 (ninety) days to crowdfund the total amount and the less valuable domains can be purchased separately as funds are raised.
The funds shall be raised by issuing a Steem Engine token 1:1 with each dollar contributed to the crowdfund. This token will later become an SMT when SMT's are available and will not compete with Steem as the main currency of the steemit.com app and backers will perpetually earn at a minimum a stake weighted share of 25% of the profits derived from the community trust from activities such as investment of surplus funds, ad revenue, subscription revenue etc.
The profit distribution percentage can be adjusted upwards at the discretion of elected trustees. The minimum shall be recorded in the trust deed.
The roadmap would be to first and foremost win back the ex Steemit Inc devs to the community @gerbino, @roadscape, @vandeberg and @justinw should he choose to resign from Tron.
The trust will be used to ensure that developers are paid in real currency and have valid employment and will lead the way to mass job creation to further the platform. Initially, the funding will come from any surplus raised from the token sale and via SPS proposals.
Once developers are back on board with the community the SMT roadmap shall continue and focus shall be placed on making Steemit.com accessible to all major languages such as Spanish, Chinese, Korean, German etc for maximum inclusion.
Over time an offical mobile app will be developed with similar UI feel to the main site and most importantly the current Steemit green logo will be retired in favour of the original Steem blockchain logo as it was in the beginning.
Any improvements on the original logo are also welcome, however, the Steemit logo will not be retained.
Justin, I implore you to consider this offer as an act of benevolence and let our community go on to become self-sovereign and truly free from corporate control. This act will go a long way to improve your overall reputation and that of Tron. You gave away $4 million to meet with Warren Buffet, I trust it would be easy for you to do the right thing and sell this project back to the community at the appraised price.
This offer will remain on the table for 7 (seven) days after which on this day next week if I have not heard from you I will start to mobilise the neosteem.com domain that I own in the same fashion as mentioned above and campaign to move the entire community to it, with Steem still remaining the underlying currency.
Sincerely,
@thecryptodrive
Legitimate Steem Consenus Witness
BuildTeam CEO
Disclaimer: This offer to purchase has no bearing whatsoever on the current discussions and issues regarding the ninja-mind stake. It is a separate offer for the domains and public-facing communication accounts only.
100% Burnpost!