The Best News in The World: There Is Not Enough STEEM To Go Around!!!! STEEM A $600 BILLION blockchain????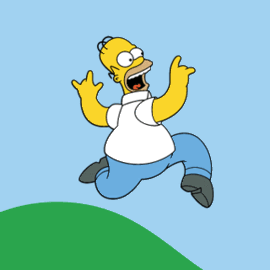 At present, there is not enough STEEM to go around.
Everywhere one looks on the STEEM blockchain, people are seeking out STEEM. There are so many projects seeking delegation makes my head spin. Each day, 60K+ accounts are posting, curating, and commenting with most of them not getting a ton of STEEM for their efforts.
And this is only going to get worse.
How do you think things will be when there are 600K accounts transacting daily on this blockchain? Take the amount of STEEM distributed each day and divide it by 10. Or to look at it another way, take the SP in your account and multiply it by 10. That is the influence one will have proportionately speaking.
There are a few things we need to consider.
The Chinese
I am sure everyone on here is well aware that China is a fairly heavily populated country. There are somewhere around 1.3B Chinese people. Even along the coastline, which is where the advanced part of China really is, there is a population base that rivals the United States.
What many of you might not have heard is that the CCID Research Institute of the Ministry of Industry and Information Technology released it evaluation and ranking of public blockchains. If my understanding of China is correct, the release of this is not to far from the government view since this is most likely a front for the government if it isnt openly a part of it.
Regardless of all that, there is some good news for STEEM. This blockchain chain in second behind Ethereum .
What I focused upon is the fact that STEEM rated very low in applicability compared to Ethereum. I highlighted this on the chart.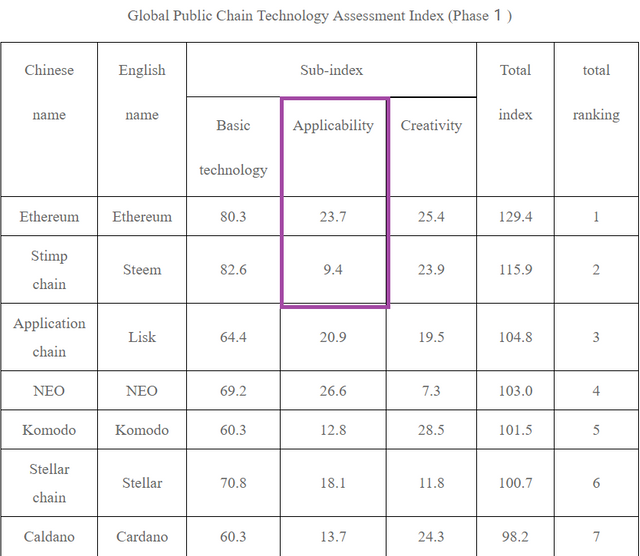 To me, this is an area that will close quickly once Smart Media Tokens are released. The fact that people will be able to create projects only limited by their imaginations AND fund them via the SMT protocol should give STEEM a huge step up in this area. We already saw that "content" can really be diverse when Steemians are allowed to create. It is not just text, video, and audio that qualifies. People are coming up with all kinds of things.
This is something I believe will only increase with the release of SMTs.
By the way, Bitcoin was 13th and BCash was second to last for those who are interested.
https://translate.google.com/translate?sl=auto&tl=en&js=y&prev=_t&hl=en&ie=UTF-8&u=http%3A%2F%2Fcyyw.cena.com.cn%2F2018-05%2F17%2Fcontent_386493.htm&edit-text=
It's The Bandwidth!!!!!
For those who do not know, the reason that STEEM has no direct transaction costs is because this blockchain operates based upon bandwidth. This is a commodity that is only priced in STEEM, hence requires one to be hodling STEEM to operate. Of course, most who are on here any length of time will not notice it since SP is amassed to more then compensate for it. However, occasionally a newer person will upvote so much he or she torches the bandwidth.
While this is not something to really concern oneself with as a user on Steemit, it is vitally important for those companies that are setting up SMTs on here. For them to function and grow their businesses, they are going to need enough bandwidth to be able to support the growth. Since bandwidth is only acquired via STEEM, guess what token is going to have to be held to get said bandwidth?
If you said STEEM, you are correct.
Now, if there is not enough STEEM at the moment, since over 60% is already tied up in SP, what do you think happens when demand increased exponentially? The inflation rate of STEEM is at or under 9% at the moment so growth at a greater rate than that means it will eat into existing supply. Increase demand tends to increase the price of a token.
This blockchain is fairly consistent at 1.5M transactions per day. If we 10 fold the transacting users to 600K per day, all things being equal, we would see roughly 15M transactions on this blockchain. What does that do to the bandwidth usage?
Yet, if we go a step further, if those people are through a STEEM based interface, it is no big deal just like it is not via Steemit, Busy, or DTube now. However, what happens when a SMT is created and has a lot of transactions? Expand this line of thinking out to 10 SMTs? 100 SMTs? 1,000 SMTs?
Bear in mind, @ned stated his goal is 100K entrepreneurs on the STEEM blockchain in 5 years. While all of these will not create a token, do you think it unrealistic that 1% will? That would be 1,000 SMT created tokens. What does that do to demand for STEEM?
Watch The MVests
@preparedwombat put together an excellent article the other day that covered this which I suggest all read since I will only highlight a couple basic points here.
We are looking at a flattening of the distribution curve. He compared it to six months ago which shows that the smaller accounts are gaining more power as time goes by. This is something that I highlight in my monthly posts about the moves in MVest.
Part of his hypothesis is that, at some point, the MVests controlled by each account level will be more than the next level up. It is a bit difficult to see now although the comparison in the 6 month charts does show it a bit.
This idea does become clear if you think about 600K daily transacting users as opposed to 60K. Also, considering the fact that the daily reward pool has 75% of the new money going to content creators, this shows that the larger accounts simply cannot keep pace with the number of new people when the floodgates open.
The other aspect to this is that MVest, which are really how vesting in the blockchain is measured, are getting more expensive as time goes by. Going back to the article, @preparedwombat showed how each day 1 MVest is worth more STEEM. While it is slight, this trend is going to continue for the next two decades. Thus, the inflation rate is going to require more STEEM to get the same number of MVests. Once again, this is going to make the present STEEM held more valuable.
Give this a read and upvote.
https://steemit.com/steem/@preparedwombat/given-a-billion-steemit-accounts-how-many-minnows-would-there-be-how-many-dolphins-how-many-whales
Here is the bottom line...
I do not know if the 1B users that @preparedwombat threw out is likely. However, it is not outrageous to consider that 100M will be on this blockchain in a couple years. When the Smart Media protocol is introduced, we will see hundreds of tokens created in the first year. That will stimulate the use by millions of people.
Underneath it all is STEEM. There is simply no way to look at this picture without realizing that. Any business that comes on the STEEM blockchain is going to require STEEM. This cannot help but to increase demand.
When demand increases at a rate greater than new ones are created, the price of that item goes up. This is what is going to happen to STEEM whether you compare it to the USD, BTC, or ETH. If the demand for this token outpaces the rest (which is should against most of the present tokens), the value of what one is holding grows.
In 20 years, according the a link in the article, there will be 600M STEEM issued. Could it be possible that STEEM is worth $600B by that time? Bitcoin hit more than half of that in marketcap in early 2018 so I do not believe it is totally unreasonable.
Nevertheless, if it hits half of that, those who are hodling STEEM today will be very happy.
By the way, a $600B marketcap in 20 years probably wont even be a top 20 blockchain.
If you found this article informative, please give it an upvote and resteem.
__
To receive the free basic income tokens you are entitled to and help end world wide poverty, please click the following:
Click For Manna Coins
In full disclosure this is a referral link

Picture by Google Images.