NOTE: I made a typo and then based my writing off the typo so I am editing it.
At the start of the year I updated the powering up series I do to see what is happening to numbers across classes. January's is here.
I was a week late with January so it was actually a bit of February too which means it had a week extra of numbers and they looked like this.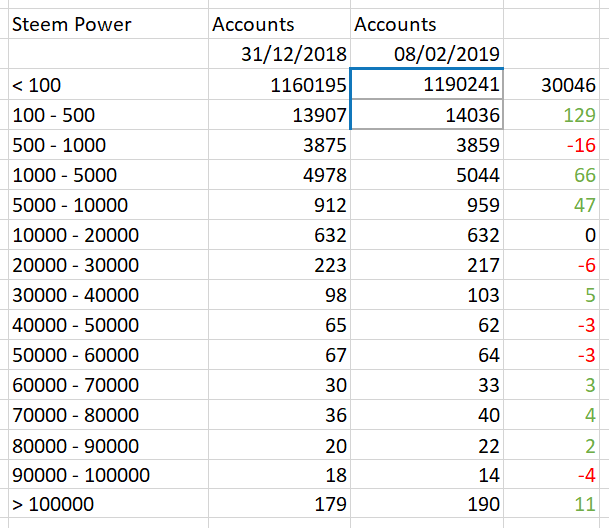 There were a lot more new accounts created in January with 30k added over December where 10x less were approved but what was nice to see was a lot more dolphins made as prices were low enough that people actually bought some Steem.
How did February go? Well, due to me being late (but not pregnant) last month, there is only 3 weeks of Stats to compare but hopefully my memory is better for next again. It is in February we would start seeing the powerdowns start to take effect if the larger accounts got scared in January due to the Stinc debacle. The 13 week PD means an account from January would have been able to power down about 50-60% of the stake now. How many orcas and whales panicked?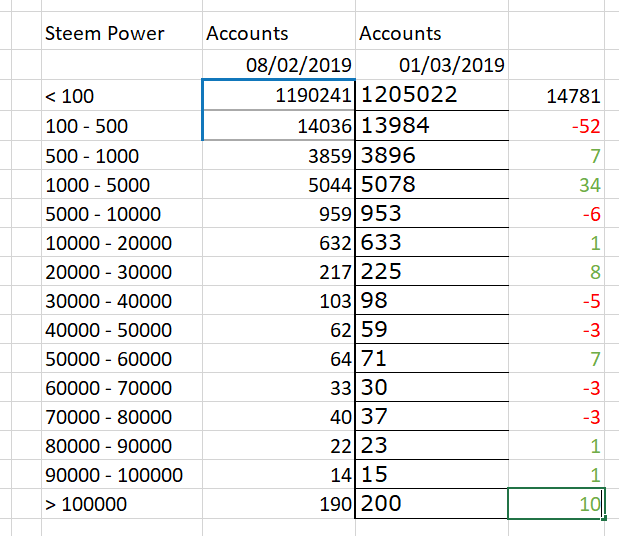 Well, not that many so far. There is 1 more account TEN MORE ACCOUNTS with 100k+ Steem pushing the number in that range into the 200s for potentially the first time ever I think. That is pretty incredible isn't it? Price has allowed people to buy in more heavily and even though there is 70+ million Steem on exchanges, accounts haven't shifted that much. Oh no, 10 accounts have moved up into the 100k+ range which is fantastic to see.
Not bad, not great.. but not bad.
Edit: Lies! much better than expected.
With all that has been going on the last few months however this is to be expected and it looks a lot like some sideways movement at the top and, some new accounts wanting to buy the bottom toward the lower end. As I see it, this is what needs to happen and in time, that lower end becomes the middle class that is need to both consume and distribute. However, it looks like some people have taken advantage of either low prices or, have brought some of their Steem back from the exchanges already and topped up the pointy end of the chart.
EDIT: The top is looking much better which means the powerdowns aren't, they are power ups. Pretty decent.
Again, this is only 3 weeks worth and if price keeps climbing, it is going to be interesting to see if people are going to keep buying in or will the Steem from the exchanges come back onto the platform to take advantage of having a higher voting value. It is often an overlooked piece of the Steem puzzle as while many focus on the price of the coin, I think the value of the vote is a much more attractive proposition for keeping people here, if price sensitive. While they aren't going to earn as much Steem, when prices are higher the distribution of votes go wider at lower values and can provide more people with value without having to sell as much Steem.
Imagine selling 1 Steem today, you would get 40 cents for it.
That is a 100% vote from a 18,000 SP account and that account can do that 10 times a day for 4 dollars. Let's say that 40 cents is enough to keep some people engaged so 10 people could get that vote. However, if price was 4 dollars, that vote would be worth 4 dollars and could distribute 40 dollars a day which is enough for 100 accounts to get 40 cents of value a day. However, the exact same amount of Steem would be issued (all things equal), 10 Steem a day.
So, when prices go up, those who are looking for the immediate value can get it and likely more than now and those providing it can't give that value with less vests used. This is why earning Steem when prices are low is easier because people try to get value on a post that is worth it and low price requires more vested stake to be used to increase the vote meaning - a higher percentage vote.
There is a hell of a lot of game theory in the Steem game for those who are interested in thinking about it but unfortunately, many just worry about the immediate value of their payout and what they can sell it for right now. That is fine of course, everyone is free to do what they want with their life in the same way that everyone is free to do what they want with their stake.
You own you.
I should sleep more than I do obviously.
Taraz
[ a Steem original ]