For a long time there have been alternative to Steem places to blog and earn crypto upon and one that has been touted to check out is publish0x, a paid blogging site that allows consumers to tip contributors with several cryptos. I was reminded about this today and went to have a look. The platform is actually quite nice looking and seems to be modern enough to create a compelling experience, but something was a little off.
This is the frontpage: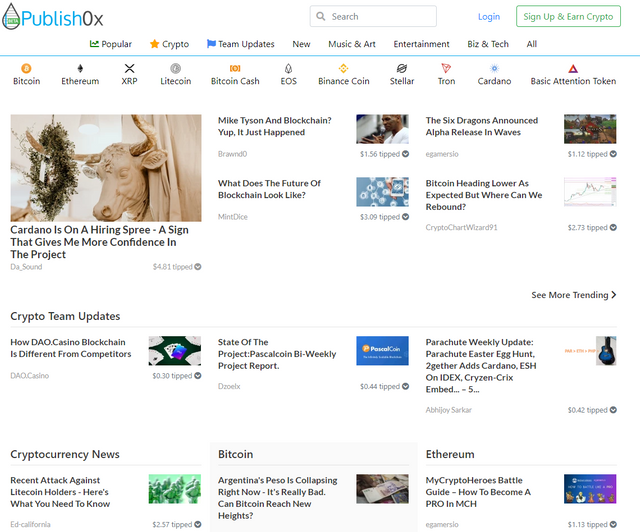 And this is what the first article had on it:

I find the idea of multiple cryptos interesting and they seem to be used a bit like on Steem with the SCOT tokens and the coming SMTs will be.
Here is the latest from @justineh on https://steempeak.com/

Justine could have also tagged a few more in there too, if she had wanted and earned multiple tokens. Not only that, when I voted on her, I gave her multiple tokens because I have powered up in several - in this case Steem and PAL only.
One of our own?
Now I don't know much about Publish0x and I am not so keen to sign up and spend my time on what is going on there, but I did have a poke around to see what kinds of articles are written and through some of the tabs and came across a blog by one of the highest overearners on Steem the last 3 years, and thought it would be an interesting exercise to see if there was a difference in how they are doing in comparison to Steem because I think that this would be a good indicator of ease of earning.
https://www.publish0x.com/@kingscrown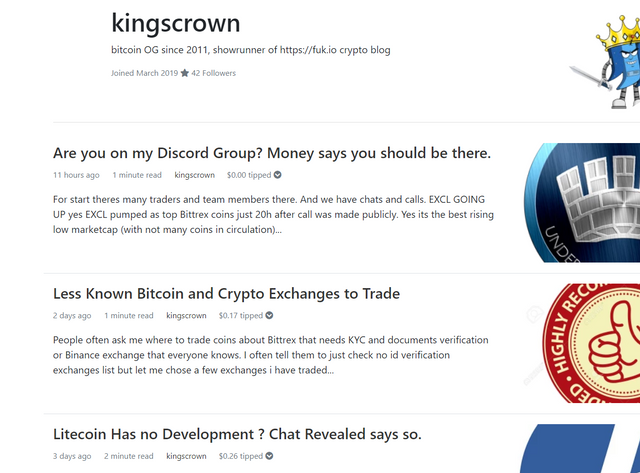 I had to scroll through 11 @Kingscrown posts before the tipped payouts added up to a single dollar and for reference, the last 11 posts of his on Steem collected 148 dollars worth of votes. To be fair, he has been on Steem for 3 years and on Publish0x since March of this year, however I do not think that he would do particularly well in comparison to some of the other content creators there anyway. I saw some other Steem familiars posting there also, they don't earn anywhere near as much as they do on Steem.
I thought I would look at some other sections too. For example the, Music, Photography and Art section: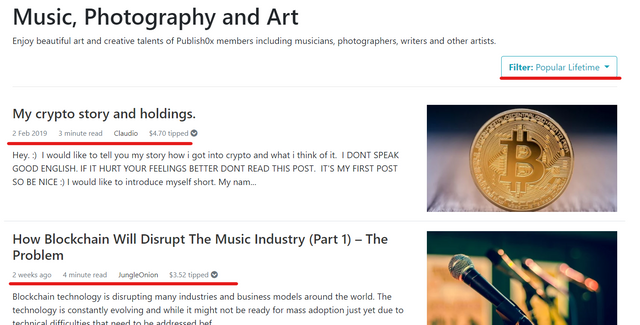 Please note, they are the two most popular posts (seemingly based on payout) for the lifetime of the platform, with the highest paid being worth $4.70.
And everyone's favourite topic, Crypto.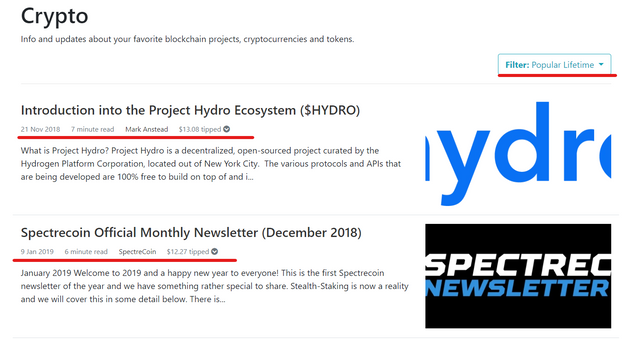 $13.08
Am I missing something?
This appears to be the highest paid post on Publish0x ever:
https://www.publish0x.com/bat-fans/everything-you-need-know-about-brave-browser-and-bat-token-xlzg

$21.68 to stop you needing to zoom - The article is good quality by what I read. However, for the "highest paid" (I think) post on the platfrom, the writer has only got a total of four posts including this, his first. $21, $11, $9 and after a 6 month break, 0.04 cents.
Is it competition?
Again, I don't know much about Publish0x but the first thing we have to recognize is that over the last 3 years, the Steem blockchain has pushed out to its users ~80-something million Steem (not including the mine), and even at these prices, that is 16 million dollars worth of crypto that has come out of the pool. For those counting, that is 761,904 of their highest paid posts.
The next thing I am wondering about is that Publish0x has a tipping service and from what I saw (there are popups for every tip), most are using BAT, likely because they can get it free on tap by using the Brave browser. Tipping is great but there is one problem with it in comparison to Steem, once one tips - the crypto is gone.
And one of the artists themselves, @nonameslefttouse has noted several times, owning a bit of Steem powered up is the ability to tip forever. This is important to note because I wonder how many Steem consumers would tip as highly as they vote on posts? Coming out of the wallet feels different to coming out of the pool. And it is.
As said, this is why there are downvotes that can take Steem value, because the value removed isn't coming out of an individual wallet, it is coming out of a shared wallet. It isn't removing earnings from the author, it is redirecting the current of the pool.
For those who like a little history why pool and direction is important:

Not only does Steem staked access regenerate, it gives 'ownership* of the platform to those with stake and this means, a hook to keep them here and engaging and the benefit of being able to earn back on consumption is another hook. To me it seems like if Publish0x really wanted to empower their userbase and provide more for their contributors, they would integrate Steem voting mechanisms into their interface and let people with a regenerating pool of resources vote on the posts instead of just tip.
What I do think is that everyone should head over to the new post section of https://www.publish0x.com/newposts and compare it to the Steem new post section https://steemit.com/created/ and have a look at the difference in content.
Sometimes I think that we are a very spoiled bunch of crypto creators filled with entitlement issues as we demand rewards on content that if presented anywhere else, wouldn't be rewarded at all. Do you think an actifit report would earn anything if the value came as a tip out of an individual's wallet? And because the crypto is already owned and in the wallet, you wouldn't even tip yourself.
I am not picking on Publish0x here a they seem to have built a nice user interface frontend, however the new feed dribbles through with only 20 posts in the last 5 hours - but it is good to get a check on what is out there.
While people will complain about the 50/50 split in HF21 and all the other things, for the most part those on Steem are likely earning more than they would on at least Publish0x and then if factoring in the niche frontends, those earnings go up again. In time, communities, SMTs and all the other changes that will keep empowering the way Steem Power can be used will keep evolving the diversity and experience of the Steem userbase.
The ideas backing Steem are quite revolutionary and while many peoplestill do not understand why ownership and return on consumption is so important, in time they will become industry standards.
Develop, Own, Create, Consume - and repeat.
Forever.
 
Taraz
[ a Steem original ]