Damm, this post is out of frustration looking at the number of people follow unknowingly everyone on the blockchain, in quest of earning few SBDs.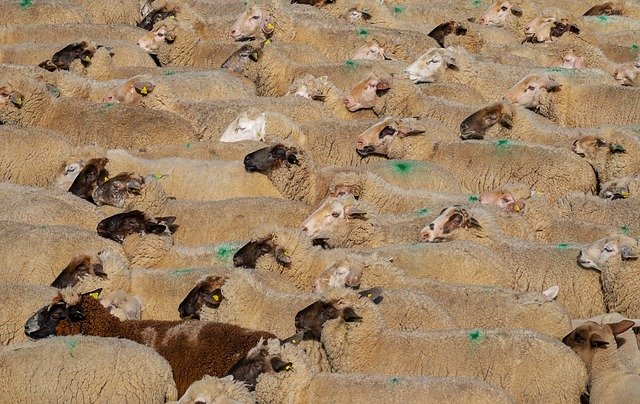 Sorry to say, people, but that strategy won't work for you. Why? Cause steem is very close to real societies we are part of, let me explain in detail. And moreover, you are wasting the network resources following such strategies.
Lets' talk about Network Resources First -
Every follow, every comment, every post, every upvote is counted as a transaction on STEEM blockchain. These transactions get saved on the blockchain. Every follow, spam or comment is actually wasting the network resources on STEEM which could have been used to save some organic transactions and growing blockchain organically. Most users first follow and then starts unfollowing making two spam transaction on the blockchain. Which gives no results except increasing few numbers in your profile. You won't even earn a shit doing that.
Now the journey and Organic Growth!
The day I joined Steemit, I had a very high expectation of earning easy money, just by posting few blogs (all thanks to the trending tab we have). The trending not only gives new users high expectation but looking at the poor content getting high rewards those expectation doubles. I just want to bring some facts straight for new users and I will be using introducemyself tag for this post to get the message to the new users.
Networking!
Have you ever tried doing Business or getting a job or selling a service or even products? The best one could have on his/her side is networking. The friends, family, community and the neighbours are the best people to sell your product or services to. Much like real-life, the steemit users in various communities could help you with getting your post to the wider audience. The true feedback and commenting could help you gaining organic followers.
Be Nice, When it's about money!
STEEMIT has the best people around, who are always eager to help, upvote your content or give you a feedback. Have you ever thought why the audience on steemit isn't like twitter/facebook (where trolls and abuses are so rampant)? Disagreement on some post results in unfollowing but not flagging. The model was decided to keep 'Proof of Brain' in mind but I feel the founders didn't take into account the greed of the human.
Be kind, spread love is all part of the getting more rewards game in general. Though there are people who will go through your post and eager to learn about what you have written but in very few numbers. Even if they are, getting their eyeballs is a difficult thing. Luckily, I have few!.
More the money in your wallet, more people are around you!
And it's like a nome in our society, people chasing and looking for the rich people. It doesn't matter how talented/creative you are if you have millions of dollars in our wallet. Money helps to get you richer, opens a lot of opportunities for you to earn, grow the network and gives you a public status.
Much like the power which money buys you in society, the SP/SBD buys you the same thing. People irrespective of talent/creativeness keeps on getting high rewards. They employ talented and earns a fortune out of it. Just check the trending tab and you will come across the circle-jerkers and you will know the power of money in your wallet.
If you don't have Money, Get a chance to get Lucky!
Are you talented but not rich or have networking on your side? Don't you worry, STEEM got a lottery system. Once in your life before reaching a reputation of 60, you may get a curie. Getting curated by @curie gives your post a sudden push and could get you in trending in one of your tags, but not in trending TRENDING. Still, you could always look forward to getting curated by @curie.
What else?
If you are not talented or you are not networking i.e not talking to people, helping them, upvoting their posts or you don't have enough money in your wallet then you definitely don't have a good future on STEEMIT. People won't go through your post even if you have thousands of followers. No one looking at the follower's posts anyways. Sometimes I do look at feed but mostly it's the GINA which helps to stalk my favourite kind of people. I get a notification on discord and go through all the post notified by GINA and that's how, I believe, most people function on STEEM.
FREE ADVICE What should you do to get your voice out?
SHORTCUT
Buy SBDs - They will help you buying upvotes, raping the reward pools and getting visibility plus upvotes. The trending tab you see is full of people using upvote bot to get their content across millions of people. It's not like 'advertisement' but upvote bots, gets you money back in your wallets with few more SBDs of minnows. It's the best form of advertisement where you have nothing to lose and you could end up being a 'STEEM hero' in just a day after setting up an account.
Oh, you don't have money?
Hustle - Go hang out with people on STEEM.CHAT where you will come across great people like @suesa and @apsu (I don't know if they are still hanging out in there. it been ages since I checked steem.chat) or On discord we have community @minnowsupportproject, they host random radio shows and people mostly hang around in different channels.
Comment - Leave 'meaningful' comments persistently will help you gain visibility in your respective tag. If you write mostly about food, hang out in food tag and put some meaningful comment in the newest post with persistence. If you are persistent you will start attracting people to your blog, if not, much like me you won't have many people caring about your post. :)
Conclusion
STOP WASTING YOUR FUCKING TIME AND NETWORK RESOURCES ON FOLLOW FOR FOLLOW! People even if they have followed you, won't give a shit about you and your work if you are not investing time in building a long-term relationship. The steemit platform doesn't function like Facebook and Instagram. Followers mean nothing and followers won't help you earning money. The influence here depends on the money you hold in your wallet and network you have built over time. Even comment for comment and upvote for upvote won't help you make big. Use your brains and put the works needed to get visibility and votes.