Steepshot releases new feature allowing creators to post short videos.
Hello, Steemians!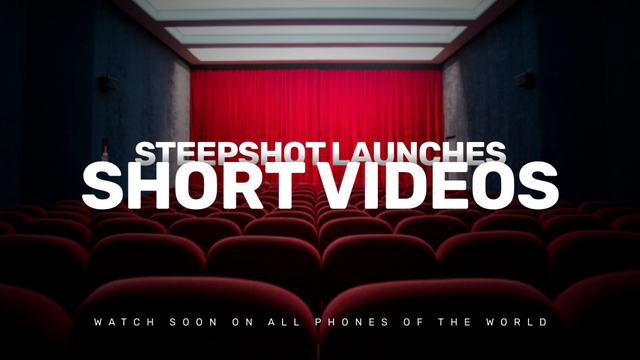 Today we are happy to announce that Steepshot releases videos. As far as we know a lot of users wait for this feature to be added. We hope that this new function will encourage users to become more creative and express their lifestyle in a more effective way.
How to post a video?
To upload a video or record a new one, first tap

at the bottom of the screen:
To upload a video from your phone's library, first tap Video tab then choose Library (iPhone) or Gallery (Android) on the left side of the screen and select the video you'd like to share.
To record a video, tap Video at the bottom of the screen. Tap and hold to start recording, and lift your finger to stop. You can tap and hold again to record multiple video clips and tap to switch between cameras.

Keep in mind that the maximum video length is 20 seconds. But there is a chance that it will become longer. Now we just test this feature. Also you can't take or upload videos from a desktop computer.
We are very excited about this new storytelling and hope that you will fully appreciate our work and enjoy the ability to create captivating mini videos
Of course, we know that there are some bugs, but we hurried a lot to make it possible for you to upload videos on Steepshot. In the nearest future after this test start, we will prepare a set of bug fixes, be patient and stay tuned!
iOS TestFlight
Unfortunately not always the App Store approves our updates on time, and this day is not an exception. It means that now iOS Steepshot app with the latest features is still under review.
But we continue updating it and for those who are interested in TestFlight, please send your requests with the words "Please add me to iOS TestFlight " to our email [email protected]
Social Media
If you have any ideas, questions or suggestions, please, find us on social media. Choose your favorite way to connect and tune in to Steepshot life.