Steepshot 2018 FIFA World Cup Russia contest results.
Hello, dear Steemians!
We are excited to announce the winners and finalists of our third photo challenge, selected from a huge amount of submissions submitted by different photographers from all over the World. Thank you for all the great entries and keep snapping such cool photos! Keep an eye out for next contest and your chance to win a great prize from Steepshot!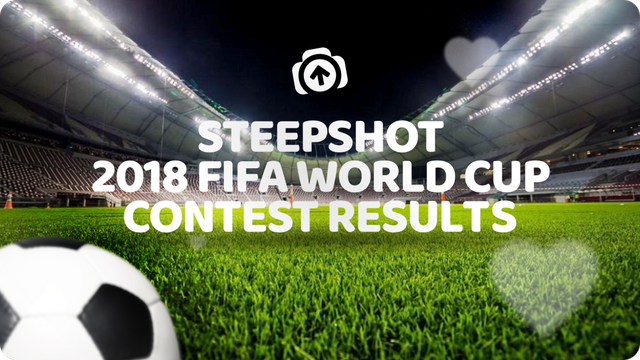 In the matter of fact that there were not so many photos matching the topic and the rules of the contest we have decided to add 1 more week for this challenge.
In determining the finalists, we were guided by the following rules:
The owner of the Image Gallery should have resteemed our previous post.
Made series of photos (using the feature Image Gallery) connected with each other under one topic.
Entries must be tagged with both #steepshotcontest and #gallery.
The photos should follow the regulations of our Community Guidelines

Click the image to open in Steepshot.
Winner №1 - 50 STEEM - @runicar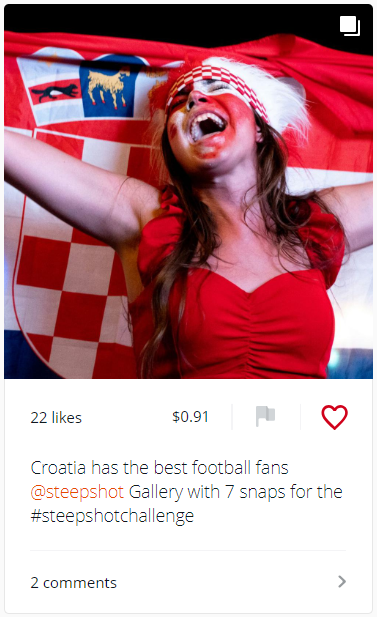 Thank @runicar for such an amazing and colorful image gallery! We didn't spend much time thinking about the first place. These photos really make us feel a true fans' spirit and exciting atmosphere that 2018 FIFA World Cup Russia gives us this year.
Winner №2 - 25 STEEM - @anomadsoul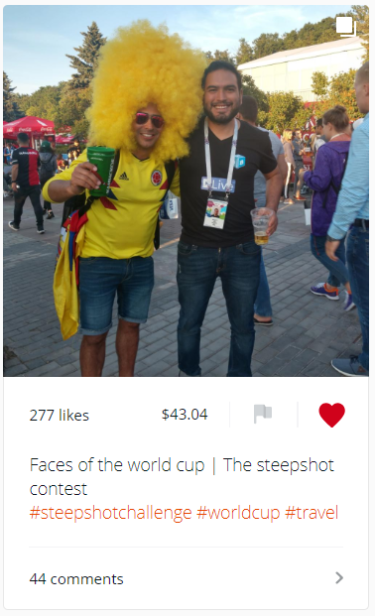 We are also very grateful to @anomadsou for his contribution to our contest. He did a great job and make a very picturesque image gallery. It was marked for a perfect attempt to show the real mood of the 2018 FIFA World Cup and an opportunity to see the fans from different countries that are united together under one goal - to support their favorite teams.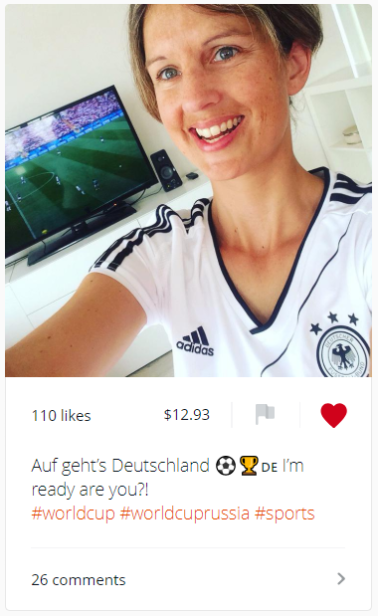 Winner №4 - 10 STEEM - @vandigital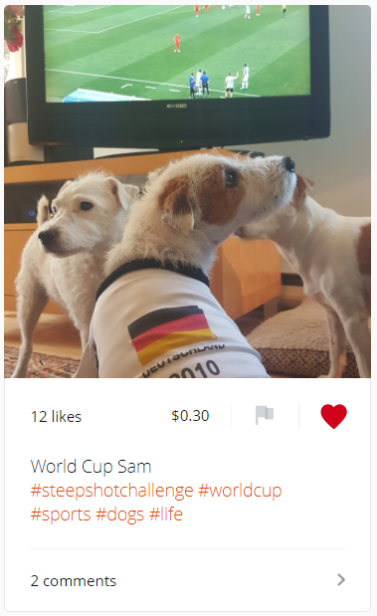 Winner №5 - 10 STEEM - @crcs2o4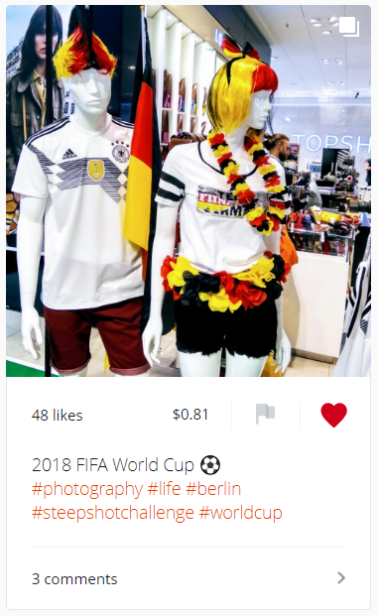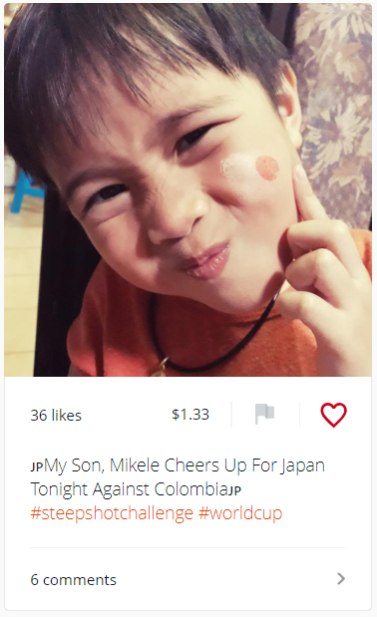 Winner №7 - 5 STEEM - @deusx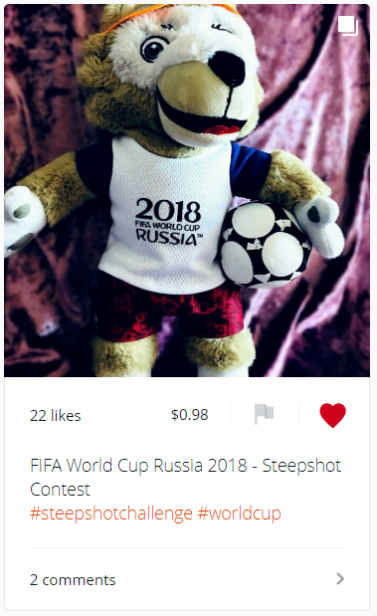 Winner №8 - 5 STEEM - @tonie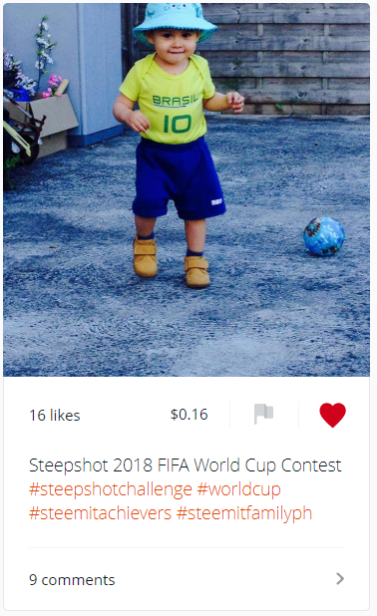 Winner №9 - 5 STEEM - @long888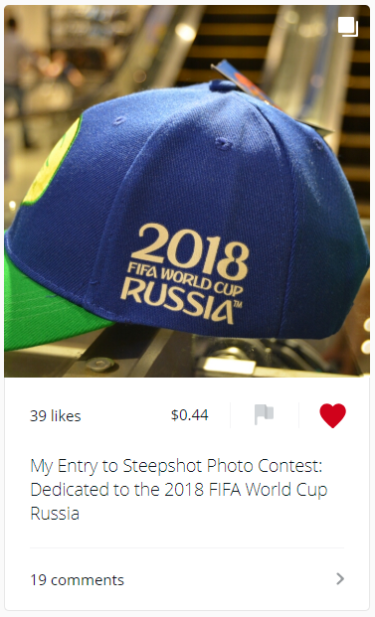 Winner №10 - 5 STEEM - @lex030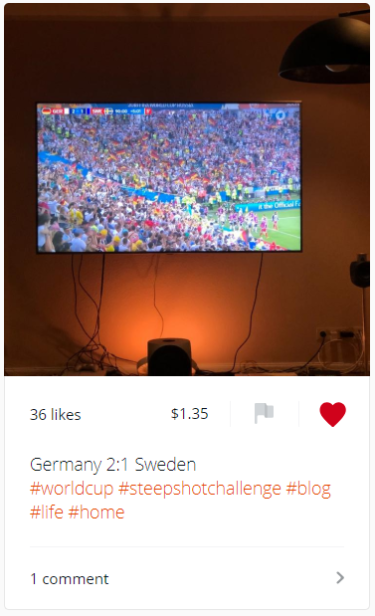 Wish all the fans good luck and hope your favorite teams will do their best!

It is never too late to join our platform and start to earn. If you haven't been the user of our app yet, you can download it below and sign in with your Steem account.



Social Media
If you have any ideas, questions or suggestions, please, find us on social media. Choose your favorite way to connect and tune in to Steepshot life.